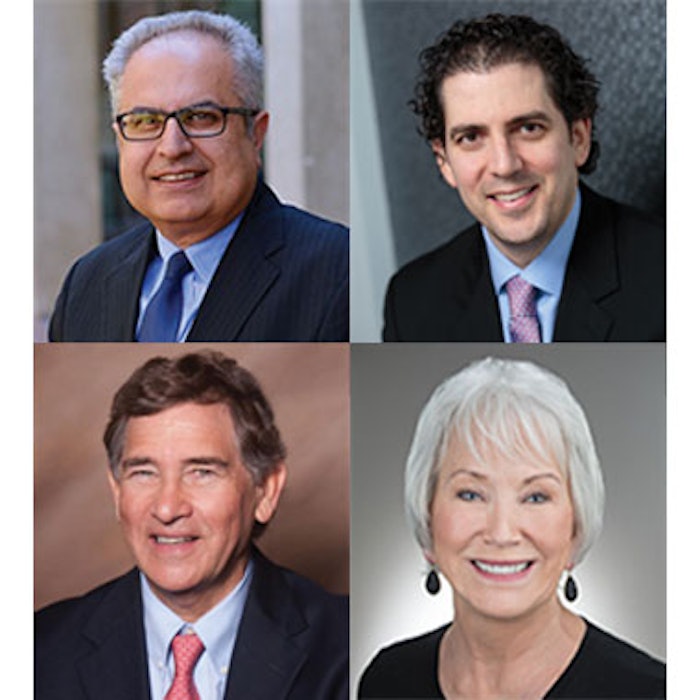 The American Society for Lasers in Medicine and Surgery recognized six individuals who have made significant contributions to the field of laser- and energy-based devices in medicine during its annual conference held in Denver in March. They include:
Bahman Anvari, PhD
Caroline and William Mark Memorial Award
Bahman Anvari, PhD, received his BA in Biophysics from the University of California, Berkeley in 1985, an MS degree in Biomedical Engineering from California State University, Sacramento in 1988, and a PhD in Bioengineering from Texas A&M University in 1993. He was a postdoctoral researcher at the Beckman Laser Institute and Medical Clinic, University of California Irvine, and later a research assistant professor of engineering at Harvey Mudd College. He joined the Bioengineering Department at Rice University in 1998 as an assistant professor, and became an associate professor in 2003.
In 2006, Dr. Anvari joined the newly formed Department of Bioengineering at University of California, Riverside as a professor. His scientific interests are in diagnostic and therapeutic applications of lasers, and the engineering of novel optical micro and nano-constructs for photomedicine. He is a co-inventor on several patents related to the cryogenic spray cooling technology used in specific dermatological applications. Dr. Anvari has published more than 350 articles and has been a member of ASLMS since 1998.
Paul M. Friedman, MD
Leon Goldman Memorial Award
Paul M. Friedman, MD, is director of the Dermatology & Laser Surgery Center of Houston and also practices at the Laser & Skin Surgery Center of New York. He was educated in dermatology at the New York University School of Medicine where he served as chief resident and was twice awarded the prestigious Husik Prize for his research in dermatologic surgery. He completed a one-year fellowship in dermatologic laser surgery and Mohs micrographic surgery and cutaneous oncology at the Laser & Skin Surgery Center of New York and was the recipient of the Young Investigator's Writing Competition Award of the American Society for Dermatologic Surgery.
Dr. Friedman is a clinical assistant professor at the University of Texas Medical School, department of dermatology, and a clinical assistant professor of dermatology at the Weill Cornell Medical College, Houston Methodist Hospital. He is also on staff at Texas Children's Hospital and Memorial-Hermann Hospital-Texas Medical Center. He served as Co-Chair for the Cutaneous Laser Surgery Section of the 2009, 2011, and 2018 ASLMS Annual Conferences and served as program co-chair for the 2015 ASLMS Annual Conference. Dr. Friedman's abstract received the Dr. Richard E. Fitzpatrick Best Clinical and Innovations Award at the 2015 ASLMS Conference and he was awarded the Best of Cutaneous Applications Abstract Session Award at the 2016 ASLMS Conference.
Gerald N. Goldberg, MD
Ellet H. Drake Memorial Award
Gerald N. Goldberg, MD, is an internationally recognized dermatologist with unique experience in laser surgery spanning more than three decades. Being board-certified in pediatrics and dermatology he has a special interest and expertise in the laser treatment of vascular birthmarks in children as well as in laser skin resurfacing. Dr. Goldberg is certified in more than 30 laser and light modalities and has performed more than 35,000 laser surgeries to date.
Dr. Goldberg graduated cum laude from Princeton University in 1973. In 1978 he obtained his medical degree from the State University of New York at Syracuse, where he was elected to the Alpha Omega Alpha Honor Society. He completed his residency in Pediatrics in 1981 and a fellowship in Dermatology in 1983 from the University of Arizona. Dr. Goldberg is a clinical professor of dermatology and pediatrics at the University of Arizona Health Sciences Center where he has been involved in resident and medical student education. He is a preceptor for laser physician education for both the ASDS and ASLMS and a frequent speaker and session moderator for the ASLMS.
Rebecca L. Sprague, RN, NP-C
Excellence in Laser Nursing/Allied Health Award
A nurse practitioner for the Laser & Skin Surgery Center of Northern California, Rebecca Sprague earned her nurse practitioner/physician assistant certificate at the University of California, Davis. She is involved in peer and public education and speaks at professional organizations. Sprague is a fellow member of the American Society for Laser Medicine and Surgery, Dermatologic Nurses Association, Society of Dermatologic Physician Assistants, American Academy of Nurse Practitioners and a recipient of ASLMS 2006 Excellence in Nursing/Allied Health Award. She served as section chair for the 2009-2010 ASLMS Nursing/Allied Health conference and recently served a three-year term on the ASLMS Board of Directors as a representative of Nursing/Allied Health.
Judith Su, PhD
Dr. Horace Furumoto Innovations Professional Development - Young Investigator Award
Judith Su is an assistant professor in Biomedical Engineering and an assistant professor of Optical Sciences at the University of Arizona. She is also a visiting associate in the Division of Biology & Biological Engineering at Caltech. Su received her BS and MS from MIT in Mechanical Engineering and her PhD from Caltech in Biochemistry & Molecular Biophysics. Her background is in imaging, microfabrication and optical instrument building for biological and medical applications. Her research interests are to develop new imaging, sensing and rheological techniques to reveal basic biological functions at the molecular, cellular and tissue levels. Recently her work has centered on label-free single molecule detection using microtoroid optical resonators with a focus on basic research and translational medicine through the development of miniature field portable devices.
Image (clockwise from top left): Bahman Anvari, PhD, Paul M. Friedman, MD, Gerald N. Goldberg, MD, Rebecca L. Sprague, RN, NP-C