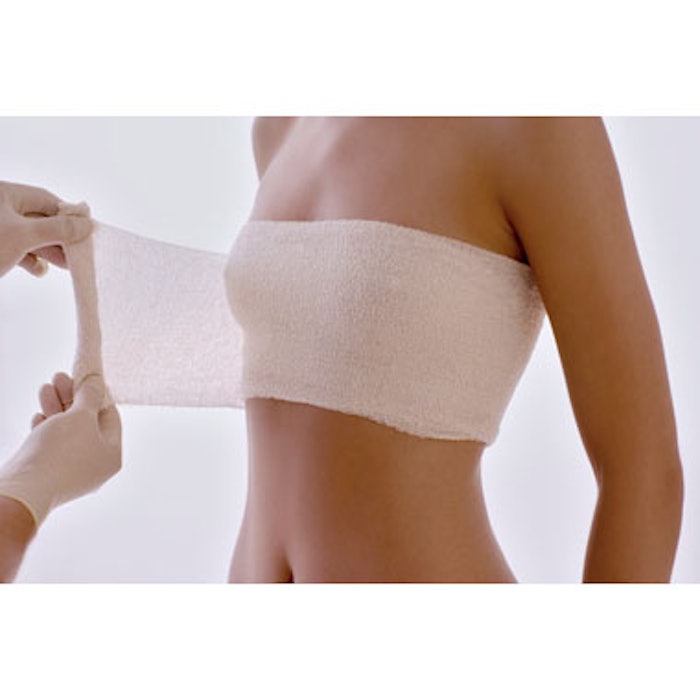 A retrospective analysis of five patients with capsular contracture (CC) who were treated with an antiobiotic-impregnated absorbable mesh during implant replacement revealed no recurrence of CC two years after surgery. For "Evaluation of Antibiotic-Impregnated Mesh in Preventing the Recurrence of Capsular Contracture," published in the May issue of the Aesthetic Surgery Journal, Eric S. Ruff, MD, et al, analyzed the outcomes of patients who were treated with a TYRX absorbable minocycline and rifampin-eluting antibacterial envelope—currently indicated for stabilization of cardiovascular implantable electronic devices (CIED), such as pacemakers or defibrillators—at the time of capsulectomy and implant replacement.
The mean age of the subjects at time of surgery was 47.0 ± 7.3 years (range, 35-54 years). The median BMI was 21.5 kg/m2 (range, 18.4-36.4 kg/m2). One patient (20 percent) presented with Baker grade III CC, and four patients (80 pecent) with Baker grade IV. A total of nine mammary augmentations utilizing the TYRX mesh were performed on the five patients.
All patients underwent capsulectomy through an inframammary incision with implant replacement into the submuscular plane with simultaneous insertion of the mesh. The mesh, which was not stabilized to any surrounding tissue, was placed anterior to the implant, adjacent to the breast parenchyma.
The surgeon followed a standard protocol for infection prevention, which included using triple antibiotic solution of bacitracin (50,000U)/vancomycin (1g)/gentamycin (80mg) in 500cc of normal saline for irrigation, soaking the implant in triple antibiotic solution prior to opening the packaging and "no touch" insertion of the implant using the Keller Funnel. Prior to closure, the pockets were rinsed with 50 percent triple antibiotic solution and 50 percent betadine paint solution. All patients received Tegaderm (3M Health Care) nipple shields.
Patient follow-up was 29 months for two patients, 25 months for two patients and 10 months for one patient (median, 25 months). At follow-up, there were no suture site infections and no recurrence of CC.
This data combined with an earlier placebo-controlled porcine study by Jacombs, et al, in which 28 implants and their pockets—14 of which included the antibiotic mesh—were inoculated with Staphylococcus epidermidis, suggests the mesh may be a valuable tool in reducing biofilm and the risk of CC. In the Jacombs study, all untreated implants developed Baker grade III/IV CC, compared to the treated implants, which were grade I/II after 16 weeks. The untreated implants with CC also had at least 10-fold higher bacterial counts than the mesh-treated implants.
Based on the combined findings, Ruff and his co-authors recommend further investigation into the off-label use of the TYRX mesh for the management of subclinical infection and CC.
Image copyright Getty Images