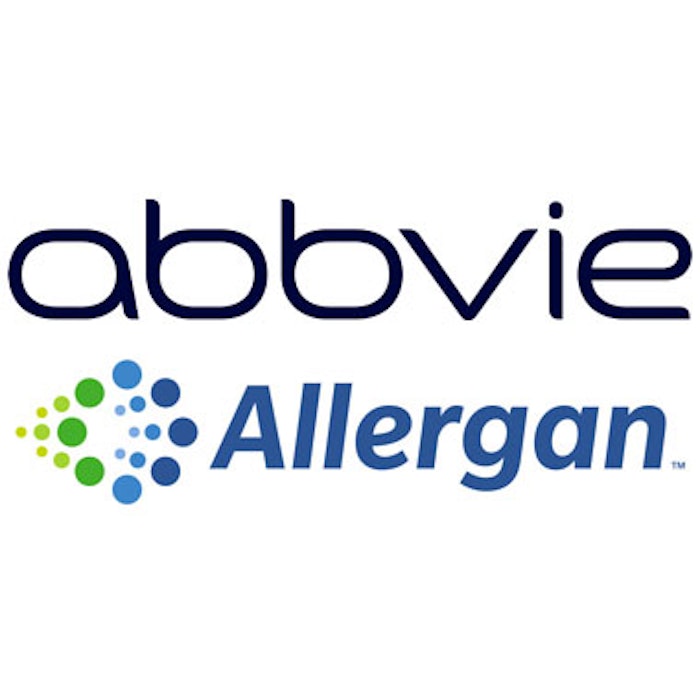 AbbVie and Allergan have entered into a definitive transaction agreement under which AbbVie will acquire Allergan in a cash and stock transaction with an equity value of approximately $63 billion. Once the acquisiton is completed, AbbVie will continue maintain its principal executive offices in North Chicago under the leadership of current chairman and CEO Richard A. Gonzalez. Two members of Allergan's board of directors, including chairman and CEO Brent Saunders, will join AbbVie's board.
Allergan shareholders will receive 0.8660 AbbVie shares and $120.30 in cash for each Allergan Share that they hold, for a total consideration of $188.24 per Allergan Share.
"This is a transformational transaction for both companies and achieves unique and complementary strategic objectives," said Gonzalez. "The combination of AbbVie and Allergan increases our ability to continue to deliver on our mission to patients and shareholders. With our enhanced growth platform to fuel industry-leading growth, this strategy allows us to diversify AbbVie's business while sustaining our focus on innovative science and the advancement of our industry-leading pipeline well into the future."
The combined company will consist of several franchises across immunology, hematologic oncology, medical aesthetics, neuroscience, women's health, eye care and virology. According to the company's press release, the combined companies generated $19 billion in operating cash flow in 2018, and the scale of the combined commercial business will ensure funding capacity and flexibility for simultaneous robust pipeline investment, debt reduction and capital return to shareholders.