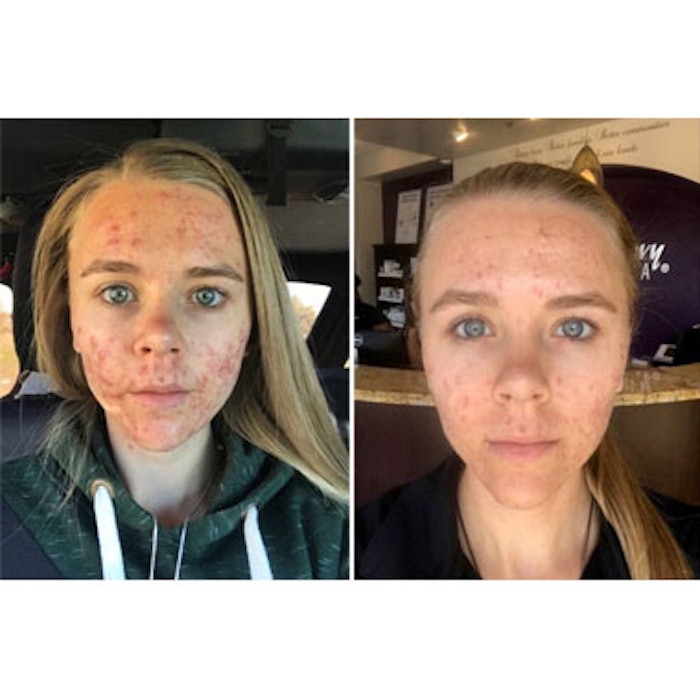 Massage Envy is rolling out a new treatment, The Acne Facial Series powered by Proactiv, in an effort to help acne sufferers who may not have access to dermatologic care. The program includes a six to 12-week esthetician-guided facial series (based on weekly or bi-weekly appointment scheduling), where acne sufferers are paired with a licensed esthetician who consults with them on their skin, delivers six customized facials, makes recommendations on how to address breakouts, shows them how to use at-home Proactiv products and adjusts the facial routines based on how the clients' skin is reacting to the program.
"Outside of going to a dermatologist, there aren't many effective options available for acne sufferers to get expert, personalized help with managing their breakouts," said Joe Magnacca, president and CEO of Massage Envy Franchising. "But now, by partnering with the biggest name in acne, we have created an acne facial that is effective, affordable and accessible to millions of acne sufferers across the nation in over 1,150 locations."
A survey commissioned by Massage Envy revealed that three-in-five acne sufferers are unsure whether their skincare regimens are effective. Two-thirds (64 percent) of acne sufferers reported that they believe skin issues are best addressed by a professional and 62 percent feel they need professional guidance.
"Our goal is to move beyond the days of buying product off the shelf and hoping for the best. We listened, and people need guidance. Estheticians at Massage Envy franchise locations are here to provide a highly customized experience that guides acne sufferers on their journey to clearer skin," said Magnacca.
Massage Envy is currently testing the Acne Facial Series in four markets—Dallas, Indianapolis, Arizona and Mississippi—and anticipates the cost of the series will be somewhere between $330 and $385. The program will be available at all Massage Envy locations nationwide in early 2020.
Image courtesy of Massage Envy: Before and after the fourth treatment with the Acne Facial Series powered by Proactiv