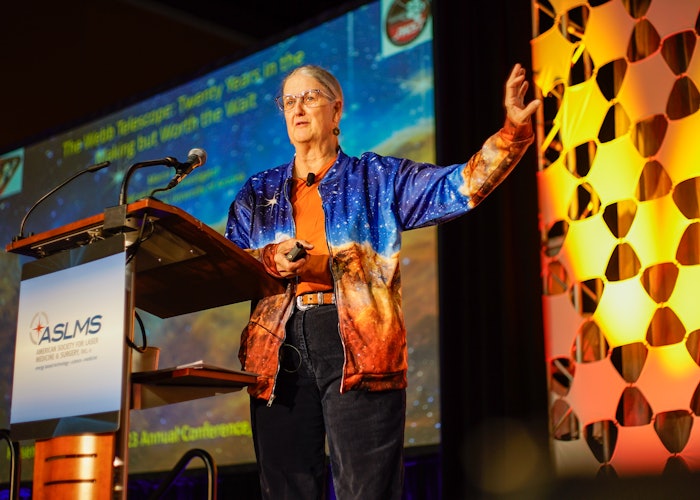 Photo courtesty of ASLMS
This year's 42nd Annual ASLMS conference offered plenty of opportunities for professionals specializing in energy-based devices and procedures and medical aesthetics practitioners in general. If you weren't able to make it to Phoenix, Arizona for this year's show, here's four exciting things you missed!
Related: Prevent & Correct Aging Skin with Reverse by Aerolase

1. Education
ASLMS offered educational opportunities for anything and everything physicians need to know about utilizing energy-based treatments in their practice, including possible legal ramifications and complications to watch out for. Physicians even had the opportunity to earn CME and CE credit by attending certain classes.
Sessions and workshops covered the latest innovations in technology and treatment techniques as well as the basics, providing an opportunity to learn no matter how long you've been practicing, including how to incorporate the use of topicals and injectables in combination with energy-based device treatments, face and neck rejuvenation, women's health, treating scars, body sculpting and much more. On the business side, sessions on practice management, how to utilize social media, legal risks and how to handle them and more were available to help practitioners not only hone their medical skills but their business as a whole.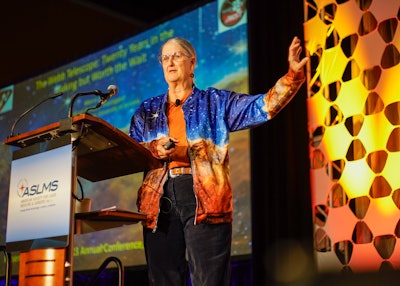 This year's conference location was particularly appropriate, as we discovered during the keynote address with Marcia Rieke, Ph.D., Regents Professor of Astronomy at the University of Arizona, entitled "The Webb Telescope: Twenty Years in the Making but Worth the Wait!" Her groundbreaking work on the near-infrared camera (NIRCam) for the James Webb Space Telescope has led to a new era in space astronomy. While she may not be in aesthetics, many of the challenges and breakthroughs Rieke experienced engineering the telescope's complicated optics have implications for how we can improve and deal with the challenges of engineering the complex lasers used in the medical aesthetics world.
Wisdom like this was abundant throughout ASLMS. No matter what area of this field industry professionals were seeking to improve, you had something to learn and take away from the many educational opportunities offered at ASLMS.
2. The Exhibit Hall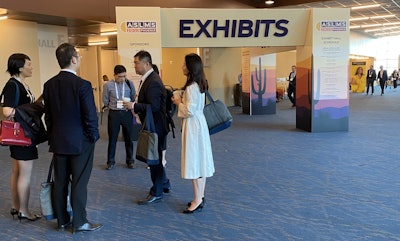 If you were looking to find the latest in aesthetic devices and the products used in combination with treatments, ASLMS had plenty to offer! Brands like Solta, Cutera, Acclaro Corporation, Lumenis, Fotona, Merz, MRP, Eltraderm Skin Care and Dominion Aesthetics all had booths at ASLMS and were showcasing their newest and hottest products.
The center stage, in particular, was on fire at ASLMS! Brands like Elevai, Candela and Aerolase were spotlighted on the Exhibit Hall Center Stage. Featured Exhibitor Showcases included Aerolase's presentation, focused on the latest device innovations and their use in treating acne in Caucasian skin as well as the ability of newer lasers for treating skin of color, entitled "The Full Acne Solution," and Candela's presentation honed in on, as the title suggests, "Advances in Radiofrequency." Whether you are looking to treat the face or body, this year's exhibitor showcases had the latest treatments and innovations covered.
In addition to the exhibitor showcases, other brands were spotlighted during the industry-sponsored lunch & learn sessions, during which attendees had a hands-on opportunity to get up close and personal with the latest devices and product innovations from some of the biggest brands in the industry.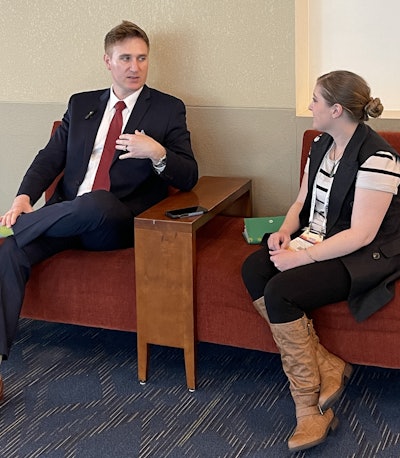 Elevai presented their Precisions Regenerative Exosome technology (PREx). MedEsthetics had a chance to sit down with Dr. Jordan Plews to get the scoop on PREx. Make sure to watch out for our online exclusive coming out soon to get the exciting details of our discussion with Dr. Plews about their expansion of exosome technology that is set to shape the future of the medical aesthetics industry!
Of course, there were product demos and plenty of opportunities to learn how to properly use the products each brand was showcasing. There was even an entire session that focused on evolving and emerging technology device demonstrations, presented by Gerald Goldberg, M.D., and Emil Tanghetti, M.D.
Industry leaders also participated in "Ask Me Anything" question and answer sessions, giving attendees a chance to ask questions of such luminaries as Jason N. Pozner, M.D., Anne M. Chapas, M.D., Michael H. Gold, M.D., and many more.
3. ASLMS 2023 Awards
The first day of ASLMS 2023, Thursday, April 13th, attendees and nominees got all glammed up for the 8th Annual Celebration of ASLMS Women in Energy-Based Devices (WEBD).
The WEBD celebrates the passion and innovation of the key influencers emerging,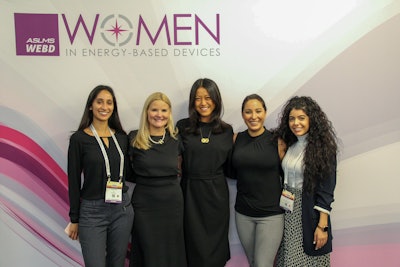 who have exhibited a profound impact within their field of expertise. This year's award recipients were Zakia Rahman, M.D., who received the Melanie C. Grossman, M.D., Award for Leadership, Mentorship and Advocacy for Women in Medical Science, and Riana D. Sanyal, M.D., M.Sc., who received the ASLMS Women in Energy-Based Devices Early Career Development Award.
Award winners were also honored at the Awards Brunch on Sunday, April 16th, the last day of ASLMS. Recipients included Abstract Award winners, Patricia Richey, M.D., and James Childs, Ph.D., as well as Honorary Award winners, Eric Bernstein, M.D., M.S.E., Renee Edkins, D.N.P., N.P.-C., CMLSO, Christopher Zachary, M.B.B.S., FRCP, Merete Haedersdal, M.D., Ph.D., D.M.Sc., Jordan Wang, M.D., M.B.E., M.B.A., and Jay Bhawalkar, Ph.D.
4. Social Soirees!
No matter where you were at or how you spent your days at ASLMS, there was plenty of socializing and fun to be had!
Brands like Solta hosted affiliate functions, highlighting their latest product innovations for attendees to learn about while also enjoying an evening under the starry Arizona sky and a chance to eat, drink and be merry with fellow industry professionals. There was also the opportunity to meet and mingle with other industry professionals all throughout the show. Networking breaks took place twice daily during the conference and newer industry professionals had the chance to mingle with industry veterans at the Early Career/Leadership Networking Reception the evening of Saturday, April 15th.
If you're feeling left out, don't worry! ASLMS 2024 is set to take place April 11th through the 14th, so make sure to mark your calendar now and save the date.