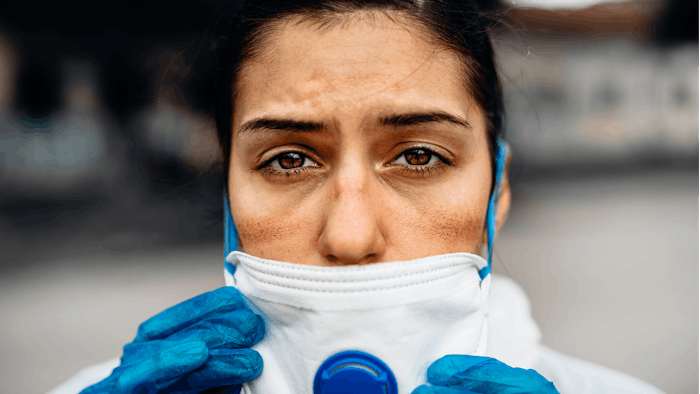 Healthcare works around the world are struggling with skin damage on their noses and cheeks as result of prolonged use of N95 masks. In the October 2020 issue of Aesthetic Surgery, Cavid Cabbarzade, MD, shared a method of padding the masks to reduce skin complications without reducing the efficacy of the masks.
His process, which is explained in a letter to the editor and in an accompanying video, involves using makeup cotton pads (MCPs) to reduce the pressure from N95 masks on the nose and cheek skin. Using scissors, he makes a vertical incision of 1.5 cm from the inferior edge of the MCP on the midline. Then extends the incision 1 cm horizontally to both sides, after which the incision is then curved towards the superior edge 1 cm from the lateral edge of the MCP at its deepest point and completed 1 cm lateral to the midline on both sides, 1.5 cm below the upper edge. This results in a shape that covers the nasal section of the mask in the middle with wing sections on both sides that extend across the area of the mask resting on the cheeks. He affixes the cotton to the mask with surgical tape and also affixes the cotton to the face.
Dr. Cabbarzade explains, "The tape is applied for the following reasons: (1) to fix the mask's edges and the SP's wings to the skin en bloc; (2) to increase the protective effects of the mask; and (3) to reduce the chance of goggles fogging by preventing air movement."
Read the full paper and see the video here.