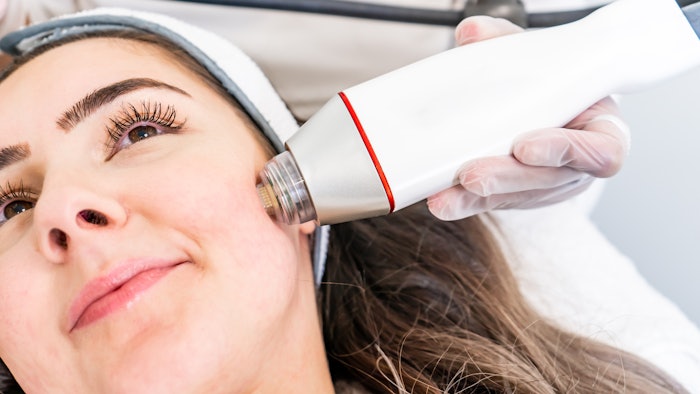 Shaun Wooten, department of research and development, Aesthetics Biomedical, led a study, published in the Journal of Cosmetic Dermatology, that examined the utilization of porcine skin to better understand bipolar dermal delivery from an radiofrequency microneedling (RFMN) device.
The researchers conducted two separate animal studies that evaluated the electrocoagulation and thermal diffusion effects using the RFMN device. These effects were assessed histologically using hematoxylin and eosin (H&E) staining. Heating effects were assessed through thermal imaging. 
The histology of the thermal injury caused by insulated needles showed that 2 MHz resulted in a narrow and concentrated coagulation zone as compared to the 1MHz. The 1 MHz insulated needles created an ovular-shaped tissue coagulation zone when compared to the 2 MHz tissue coagulation. Researchers found that full thermal diffusion occurred seconds after the set radiofrequency conduction time. 
Thus, 1 MHz insulated needles produce larger coagulations with an increase in power level. The 1 MHz non-insulated array was comparable to the 2 MHz insulated array with similar histologic features. 
Read the full study here.