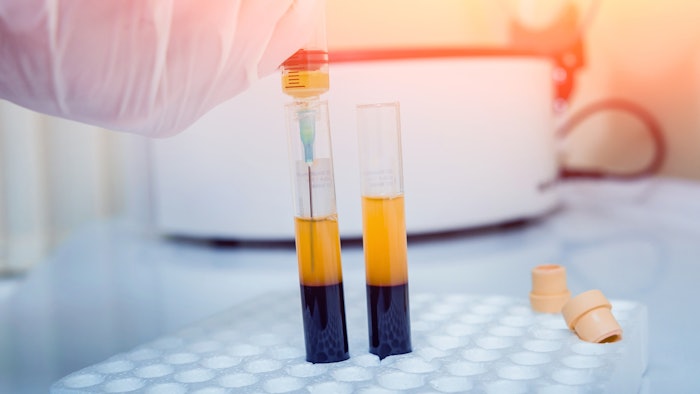 Monthly injections of liquid platelet-rich fibrin (PRF) rejuvenate skin and offer high patient satisfaction rates, according to the results of a study published in the December 2020 issue of the Journal of Cosmetic Dermatology.
For the single‐center, prospective, uncontrolled study, researchers treated 11 healthy female patients with three monthly intradermal injections of PRF, prepared using the PRF PROCESS system technology. Treatment included injections in three facial regions: malar areas (1 mL each side), nasolabial folds (0.5 mL each side) and upper lip skin above the vermilion border (1 mL). The subjects' skin was assessed at baseline and four weeks following the last treatments using 2D clinical photographs and Visia Skin Analysis (Canfield Scientific). The subjects also completed the FACE-Q patient-reported outcomes measure at baseline and four weeks following the last treatment session.
Skin analysis and photographs revealed significant improvement in skin surface spots and pore size. Other variables, such as skin texture, wrinkles, ultraviolet spots and porphyrins, showed a numerical improvement. FACE‐Q responses all showed a significant improvement from baseline, including satisfaction with skin, satisfaction with facial appearance, satisfaction with cheeks, satisfaction with lower face and jawline and satisfaction with lips. No major adverse effects were reported.
Read the full study here.