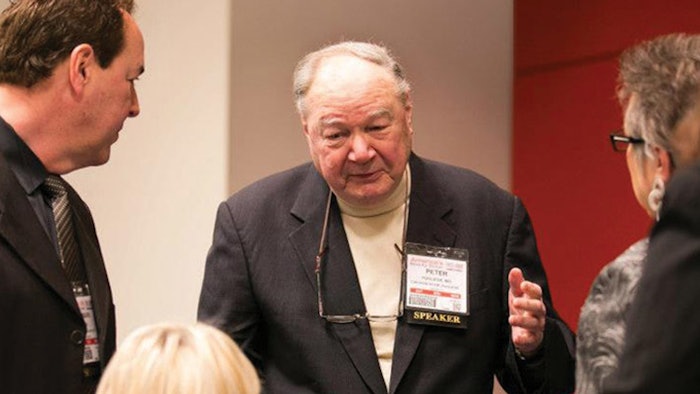 The esthetic's industry has lost one of its greats. On Jan. 15, 2021, Peter T. Pugliese, MD, passed away at the age of 94. Dr. Pugliese was well-known to the esthetics industry as a phenomenal skin science educator, the founder of Circadia and above all, a humanitarian.
Pugliese started his career as a physician in 1957, where the ripples of his desire to help others were first felt. One of my favorite stories about Dr. Pugliese was one I remember hearing when his book The Cookie Doctor first came out. Dr. Pugliese was a physician in an area where some patients couldn't afford his care, so he would allow them to pay him with cookies. Pugliese's care as a physician extended to immesurable lengths, as he self-funded and established one of the first methodone clinics in the 1960s.
Of course, Pugliese didn't come to esthetics until a request was made in 1973 by the love of his life, his late wife Joanne. She asked him to help with her skin, and he started researching. The more he researched, the more he realized the need for physiology education in esthetics, a topic he taught for four decades.
During this time, Dr. Pugliese joined and formed close bonds within the Society of Cosmetic Chemists. In 1996, he was awarded the Mason G. deNavarre Medal Award, The American Society of Cosmetic Chemists' highest honor. 
After five decades as a physician, Dr. Pugliese took his vast knowledge on physiology, cosmetic ingredients, chronobiology and the circadian rhythm of the body and founded the skin care line Circadia by Dr. Pugliese. After Dr. Pugliese stepped away from the brand, his grandson Michael Q. Pugliese stepped into his shoes as head of the brand and skin science educator.
Listing Dr. Pugliese's contributions to the esthetics industry would be nearly impossible. He wrote three editions of the legendary book Physiology of the Skin, held 13 patents, authored hundreds of industry articles and taught classes across the country. When our sister publication Skin Inc. interviewed him in 2018, he noted his highest accomplishment as measuring the enzyme activity through the skin, noninvasively.  
Dr. Pugliese was a member of the Skin Inc. family for decades, where he helped us get our start, wrote countless articles, taught at Face & Body shows and authored books. His impression was strong and lasting, and he will be missed. 
Although many of us will remember the impact he made on esthetics, Dr. Pugliese was so much more. He was a patriot, having  served in the United States Marine Corp during World War II, and the Korean War as a Sargent in The United States Army. He was a Christian, volunteering at 90 to teach confirmation classes for his church. He was a loving husband, father, grandfather and great-grandfather.
Pugliese left a legacy of education. He once told us, "Knowledge is power, and power is what you need to be successful in this industry." Let's honor that legacy by learning as much as we can to be the best we can be.