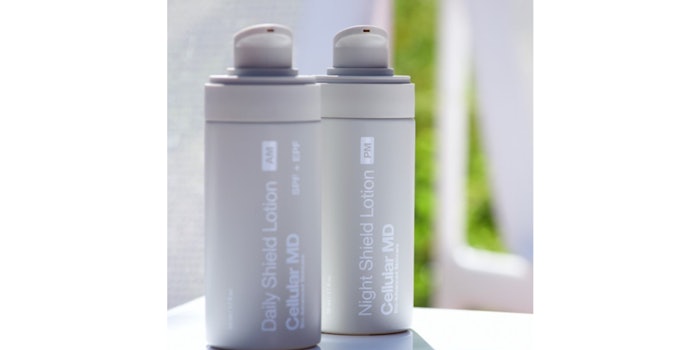 Dermatologist Ronald Moy, MD, along with daughter and entrepreneur, Erin Moy, have launched a line of bio-advanced skin health products, called Cellular MD. The line, which features Nobel Prize-winning DNA repair enzymes and epidermal growth factors, is formulated for all ages and skin types.  
"I believe that we need to broaden the dialogue of skin care to include ingredients that lay a strong foundation for skin health, rather than simply addressing ingredients that merely sit on the surface of the skin, sometimes never fully absorbing, and provide minimal protection," said Dr. Moy. "Sunscreen, for example, is not enough in preventing skin cancers or aging. There are other steps that need to be taken to safeguard skin health. Cellular MD has enabled me to cast a wider net to all customers to provide them with a science-backed skincare system that builds an optimal foundation for their skin health overall, in addition to helping prevent future problems, such as skin or pre-cancers."
Cellular MD products combines three primary ingredients to regenerate, protect and future-proof skin:
Circadian Repair Proteins (DNA Repair Enzymes)
Barley-derived Growth Factors
Niacinamide
The  formulations include a High-Impact Serum, Reparative Hybrid Mask, Hydrating Cleansing Mask, Intensive Eye Balm, Daily Shield SPF 30+ and a Night Shield Lotion.
"In today's modern world, products should be both effective and sustainable as skin-safe products deserve to be the first thought, not an afterthought. As a mother and consumer, I am a firm believer in brands that are conscious not only in their mission but in their footprint, which is why we not only have ingredients from natural sources but also recycled and recyclable packaging that works for every member of our family," said Erin Moy.
Cellular MD donates 10% of all proceeds from the Daily Shield Lotion to Camp Sundown, a night camp for children with life-threatening sun sensitivity Xeroderma Pigmentosa, an inherited condition characterized by an extreme sensitivity to ultraviolet (UV) rays from sunlight.