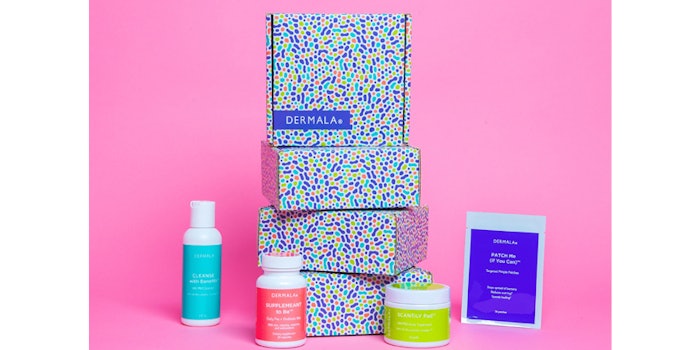 Courtesy of Dermala
Dermala has been issued U.S. Patent No. 11,040,046 - Compositions and Methods for Treating Acne Vulgaris. 
Dermala is a consumer dermatology company leveraging a scientific understanding of the human microbiome and data analytics to develop novel solutions for acne and other skin conditions. 
The patent covers the use of the human microbiome to treat and prevent acne, the eighth most common disease and condition worldwide.
Dermala's patented technology includes human microbiome-derived postbiotics and metabolites derived from beneficial bacteria in the human microbiome that inhibit C. acnes bacteria, including antibiotic-resistant clinical isolates from individuals with treatment-resistant acne. These postbiotics act synergistically when combined with other ingredients that treat acne. 
"The consumer dermatology market is ripe for science-based solutions to treat common skin conditions," said Lada Rasochova, PhD, MBA, founder/CEO of Dermala and the patent co-inventor. "Using the human microbiome to treat skin conditions associated with microbiome imbalances makes great scientific sense. We've demonstrated that we can deliver superior results by incorporating the human microbiome in a novel, unique and unexpected way."