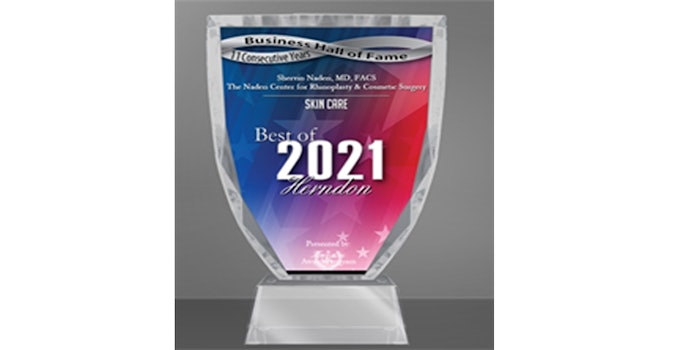 Courtesy of Herndon Award Committee
The Naderi Center for Plastic Surgery and Dermatology has been awarded the Best of Herndon business award for the 11th year in a row!
The Herndon Award committee based in Herndon, Virginia, selected a small group of companies who exhibited "exceptional marketing success" in the local business community. Winners in every category are determined by what each nominated business offers to the community. Final award winners are selected through a combination of internal input by the committee and data that is provided through external third parties.
Dr. Naderi and The Naderi Center will also be inducted into the 2021 Herndon Business Hall of Fame, which recognizes the best of local Herndon area businesses.
"We're once again extremely honored to be selected for the Best of Herndon business award," said Dr. Naderi. "We work hard to serve the community and provide the best in surgical and nonsurgical cosmetic treatments. The Herndon award and inclusion in the 2021 Herndon Business Hall of Fame is great recognition for our staff for a job well done."