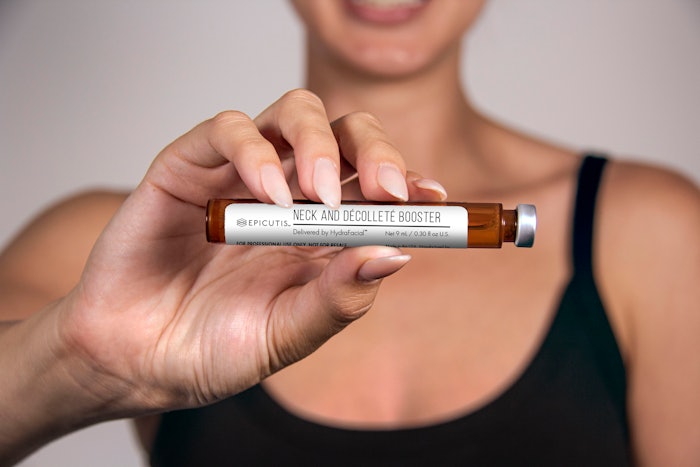 Courtesy of HydraFacial x Epicutis
HydraFacial has collaborated with Epicutis, a new professional, medical-grade luxury skin care line to create the Neck & Decollete Booster for use with Hydrafacial treatments.
"We're thrilled to expand our portfolio of customized treatment solutions through our partnership with Epicutis," said Clint Carnell, CEO of The HydraFacial Company. "This booster is a first-of-its-kind and will allow us to offer HydraFacial customers the latest formulation advancements to help target an often overlooked area of the skin."
The Neck & Décoletté Booster was designed to visibly revitalize the neckline and achieve smoother looking skin. It helps to improve the wrinkled appearance of the face and neck, combat the appearance of fine lines and wrinkles and hydrate skin.
"We are excited to partner with HydraFacial and to bring Epicutis' exclusive formula and patented ingredients to their customers," says Maxwell Stock, CEO and co-founder of Epicutis. "We share the same clean, holistic approach to skin health and our booster serum will only enhance the benefits of the HydraFacial technology."