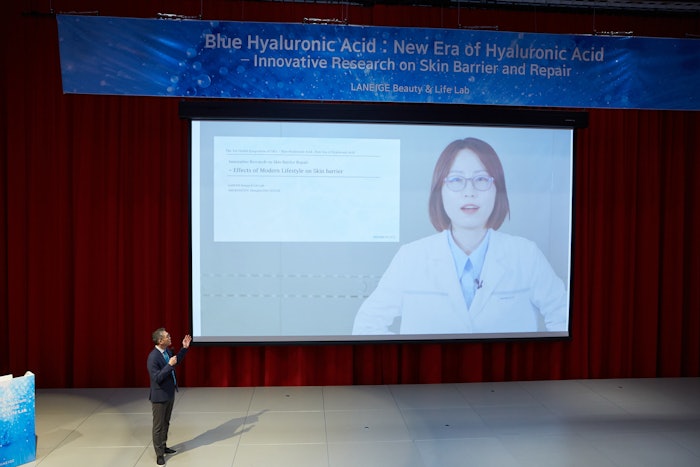 Courtesy of LANEIGE
LANEIGE held its global academic symposium titled: Blue Hyaluronic Acid: New Era of Hyaluronic Acid - Innovative Research on Skin Barrier and Repair.
LANEIGE is Amorepacific's functional beauty brand that delivers new beauty experiences.
Blue Hyaluronic Acid is a new ingredient developed thanks to more than 38 years of research, and will be included in the new LANEIGE Water Bank product line, to be launched in March.
"Blue Hyaluronic Acid is a key component of the new LANEIGE Water Bank product line, which will be launched in March. Developed through secondary fermentation and a 10-step concentration and purification process, it boasts an innovative size 2,000 times smaller than the previous hyaluronic acid molecules. It also offers 300% stronger recovery power and moisturizing effects, helping to improve the dry and damaged skin moisture barrier of modern people," said Anna Park, a senior researcher at the Amorepacific R&I Center.
The webinar was prepared by LANEIGE Beauty & Life Lab. The lab conducts research to create various solutions to skin issues, by analyzing changing customer lifestyles based on data and investigating their relationship with the skin.
Byung-Fhy Suh, Director of the LANEIGE Beauty & Life Lab and chair of the symposium, said, "We are excited to introduce our latest research findings associated with skin barrier function and LANEIGE's Blue Hyaluronic Acid. We believe it will provide a new level of replenishing hydration and moisturization."