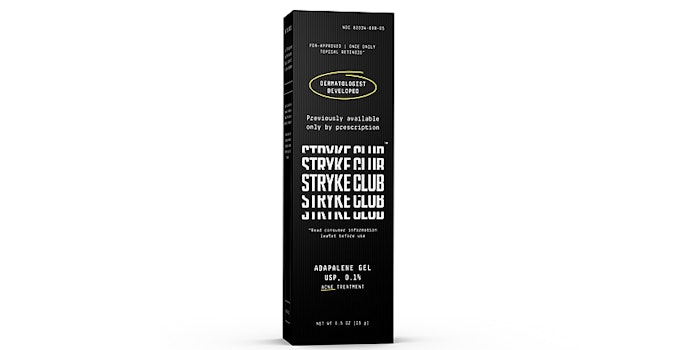 Image source: Stryke Club
Stryke Club's Knockout Adapalene Gel treatment is an over-the-counter (OTC) acne-fighting formula that contains prescription-strength ingredients.
Related: Blemish-Prone Skin Benefits from Double-Conjugated Retinoid/AHA
The gel is an FDA-approved OTC retinoid acne treatment, said to prevent pimples, blackheads, whiteheads and clogged pores and to clear redness and inflammation caused by acne. According to the company, studies have shown that compared with other retinoids, Adapalene gel 0.1%, based on a vitamin A derivative, causes less skin irritation. 
Suitable for adults and children 12 years of age and older, the product is recommended for use once daily. Skin should be gently cleansed and patted dry before applying the product in a thin layer over the entire affected area. The company advises that applying more than directed will not provide faster or better results, but may worsen skin irritation.
The gel is oil-free, fragrance-free and dermatologist-recommended. 
Ingredients (active): Adapalene USP 0.1%; (inactive): Carbomer Homopolymer, Edetate Disodium, Methylparaben, Poloxamer 182, Propylene Glycol, Purified Water, Sodium Hydroxide.