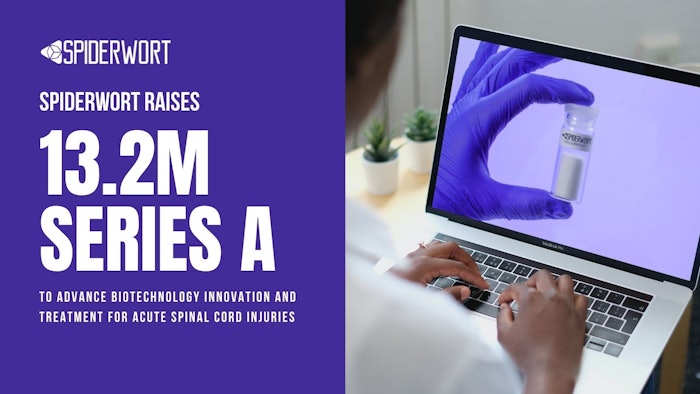 Photo courtesy of Spiderwort.
Spiderwort announced their successful completion of $13.2 million Series A financing. The financing was led by Horizons Ventures and supported by K5 Global, BoxOne Ventures and Break Off Capital. 
"The results in the lab are very encouraging," said Andrew E. Pelling, Ph.D., CSO of Spiderwort. "Spiderwort was founded on asking big questions and taking big risks and that work is now paying off. We're looking forward to moving our innovations to the clinic and improving the quality of life of people around the world."
Related: Greenwich Medical Spa Announces Acquisition of MedSpa1064
The investment will support the transition from pre-clinical studies to clinical trials that will bring Spiderwort's biomaterial to the market. In the next phase of its trials, the company is committed to delivering a "transformative treatment option" to medical professionals and patients. 
"We are grateful for the trust and support from our funding partners and investors. We are looking forward to continuing our journey with them," said Charles M. Cuerrier, Ph.D., CEO of Spiderwort. "With the closing of this financing round, we are now in position to accelerate our product development program to bring CelluBridge and CelluJuve closer to patients. Our biomaterials have the potential to transform lives and we are eager to share them with the world."
Spiderwort's biomaterials received a "Breakthrough Device Designation" by the U.S. Food and Drug Administration. The biomaterials use plant-derived scaffolding to create a structure for real tissue to grow. The company also has two core products currently under development: CelluBridge, which promotes the repair of the spinal cord, and CelluJuve, a cellulose-based dermal filler.