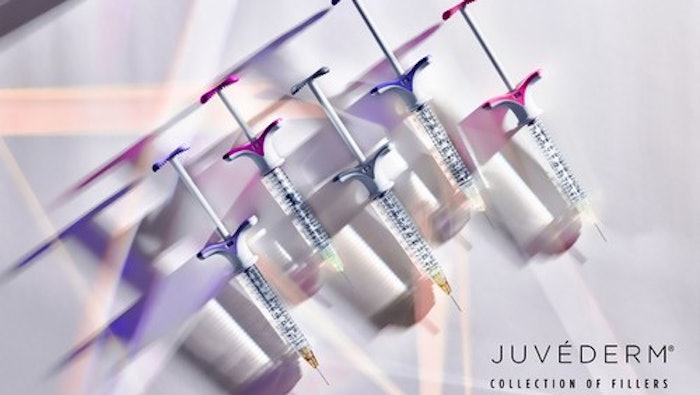 Allergan Aesthetics invites customers to experience their JUVÉDERM difference. Their collection of fillers is the top selling collection of dermal fillers on the market and the brand offers the largest portfolio of fillers designed for different areas of the face to address patient concerns. Their unique formulation allows for a customized treatment approach. 
Related: JUVÉDERM VOLBELLA XC Approved For Undereye Hollows

Consumers can currently earn double points in the Allē, Allergan Aesthetics' loyalty rewards program, when treated with two or three syringes from the JUVÉDERM Collection of Fillers during the same visit.
The points can be redeemed for future Allē-eligible treatments or products. The promotion runs now through September 30, 2022. Allē members can also use the Allē Flash program to determine if they are eligible for additional savings.
"We help support and grow the filler market while ensuring that all consumers who are interested in talking to their specialist about treatment with the JUVÉDERM Collection of Fillers have access to education and the product," said Carrie Strom, Global President of Allergan Aesthetics. "We are excited to share our passion for the JUVÉDERM Collection of Fillers with consumers through this limited time offer."
Related: HA Fillers Last More Than Two Years in Midface

The JUVÉDERM difference is achieved through a wide range of minimally invasive treatment options that provides instant results that long-lasting and natural-looking. The collection of fillers' VYCROSS technology is the number one chosen dermal filler technology worldwide. The company boasts the top chosen filler for cheeks, lower face wrinkles and folds, lips and perioral lines. 
JUVÉDERM Double Points Promotion
Long-Lasting: JUVÉDERM Ultra Plus XC and JUVÉDERM VOLLURE XC are the longest-lasting dermal fillers FDA approved to treat moderate to severe facial wrinkles and folds. Plus, with optimal treatment, JUVÉDERM VOLUMA XC can last up to two years in the cheeks, two times longer than any other hyaluronic acid (HA) cheek filler.
Natural Looking and Feeling: Specific to lip treatment, both JUVÉDERM Ultra XC and JUVÉDERM VOLBELLA XC provide natural-looking and natural-feeling results.
Instant Results: The full collection of JUVÉDERM Fillers offers immediate results, from lips and lines to cheeks and chin.
Minimally Invasive: Every HA filler product in the JUVÉDERM Collection of Fillers is FDA approved to be safe and effective. HA is a naturally occurring substance that delivers volume to the skin. JUVÉDERM is a non-surgical option that contains a modified form of HA.