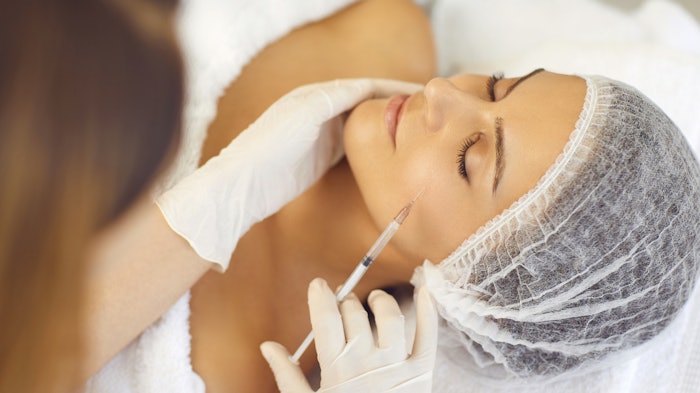 A split-face, two-year study comparing the longevity of monophasic and biphasic hyaluronic acid (HA) fillers in the anteromedial cheek found that both types of fillers offer continued volumization at the two-year mark.
For the study, which appeared in Plastic and Reconstructive Surgery (May 6, 2022) and was funded by Merz Pharmaceuticals, researchers in South Korea used objective 3D measurements to determine volumetric changes in the treatment area.
Related: [Technique] Midface Rejuvenation with HA Fillers
They performed midfacial injections of the test filler (Belotero Volume) on one side and a random control filler (Juvéderm, Restylane SubQ or Yvoire Contour) on the contralateral side on subjects aged 30 to 50 years. 3D scans were performed at baseline, after 30 minutes and at 2, 4, 12 and 24 weeks postprocedure; and then again at two years.
They found that volume augmentation effects for the anteromedial cheek of two monophasic fillers (Belotero Volume and Juvéderm Voluma) were maintained for at least two years (81% and 66%, respectively). Volume augmentation effects of the two biphasic fillers (Yvoire Contour and Restylane SubQ) was more than 50 percent also at two years.
Related: Comparison of Calcium Hydroxylapatite and Vycross-20L in Midface Rejuvenation
The authors determined that the monophasic fillers showed better outcomes than biphasic fillers; "however, both types of hyaluronic acid fillers demonstrated superior efficacy, safety and durability for volumetric augmentation in the anteromedial cheek."