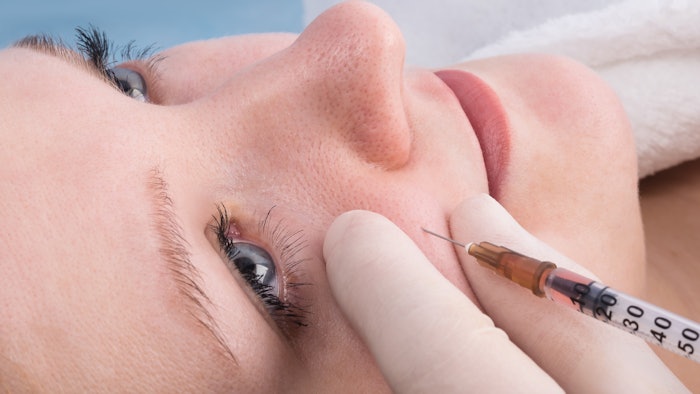 A study, published in the Journal of Cosmetic Dermatology (February 2021), compared outcomes, longevity and patient satisfaction with equal volumes of either calcium hydroxylapatite (CaHA) or Vycross‐20L (VYC-20L) hyaluronic acid filler for midface rejuvenation.
Related: Starting in the Middle
Authors Alan Durkin, MD, et al, treated 17 patients with midface volume loss using 3 cc of either CaHA or VYC‐20L. Outcomes were assessed at 1, 7, 30, 90, 180 and 365 days post-treatment by subjects and blinded physician-evaluators using the Global Aesthetic Improvement Scale (SGAIS and PGAIS). Cost per point improvement on the SGAIS over time also was determined.
A large majority of subjects improved at all time points, but a higher proportion of subjects in the CaHA treatment group were "very improved" at each time point. The difference was significant at day 90 (100% vs 50%), day 180 (89% vs 37.5%) and day 360 (89% vs 37.5%). For both SGAIS and PGAIS, only subjects within the VYC‐20L cohort had "unaltered" appearance within one year. The average cost per point of SGAIS improvement for VYC‐20L was approximately twice that of CaHA at one year.
Based on these findings, the authors concluded that, CaHA offers more durable outcomes than an equal volume of VYC‐20L in the midface, providing a higher value to the patient.