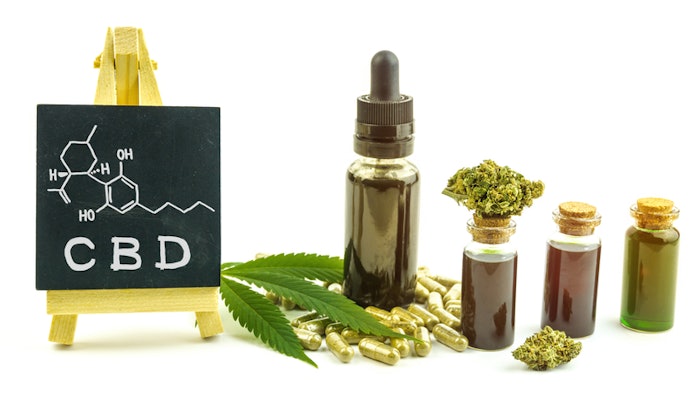 UK-based wellness company Cellular Goods announced the release of its white paper, "The 5 As of Cannabinoid Skincare,"' which explores the benefits of cannabinoids, namely cannabidiol (CBD) and cannabigerol (CBG). The paper intends to outline for consumers and formulators alike the advantages that CBG and CBD can offer skin care applications.
According to the company, a growing body of robust scientific evidence is revealing that CBD and, in particular CBG, are potent actives that can prevent the skin aging effects of UV radiation. They can also inhibit the irritating effects of inflammation that accelerate aging (or "inflammaging") and protect skin from the damaging effects of cellular oxidation and reactive oxygen species (ROS).
In addition, they can stop the growth of blemish-causing bacteria and, through anti-melanogenesis, brighten skin and promote even skin tone. Briefly, the related studies demonstrating the 5As include the following.
Related: BASF's CBD Solutions Expands Clean Beauty Offerings
Aging Prevention
Cannabinoids present a proactive solution prevented skin aging thanks to their protective properties. Cellular Goods confirmed these benefits in an in vivo study involving the company's rejuvenating face serum, where 166 female participants reported their skin was visibly rejuvenated after four weeks of use. 
Anti-inflammation
Findings from recent studies reveal CBG and CBD have a capacity to prevent inflammation caused by common stimuli including UV radiation and bacterial pathogens. Willow Biosciences, Cellular Goods' supply partner, reported that pre-treatment of human dermal fibroblasts with CBG or CBD was more effective than vitamin C for preventing inflammation caused by UVA radiation.
Antioxidant
A recent study published by Willow Biosciences found that CBG and, to a lesser extent CBD, had markedly higher antioxidant capacities than vitamin C, and were consequentially more effective at preventing the formation of ROS (a key driver of aging) within human dermal fibroblasts.
Antibacterial
CBG's and CBD's potent antibacterial properties enable them to combat blemishes without irritating skin through two distinct pathways: inhibiting both the inflammation caused by the pathogen Cutibacterium acnes and its growth, with CBG being more effective than CBD in both instances.
Anti-melanogenesis     
Finally, the excessive production of melanin in skin can be caused by everything from acne scars to sun damage. Through proprietary research, Cellular Goods discovered that CBG is particularly effective for enhancing the anti-melanogenesis outcomes of select skin-brightening actives.