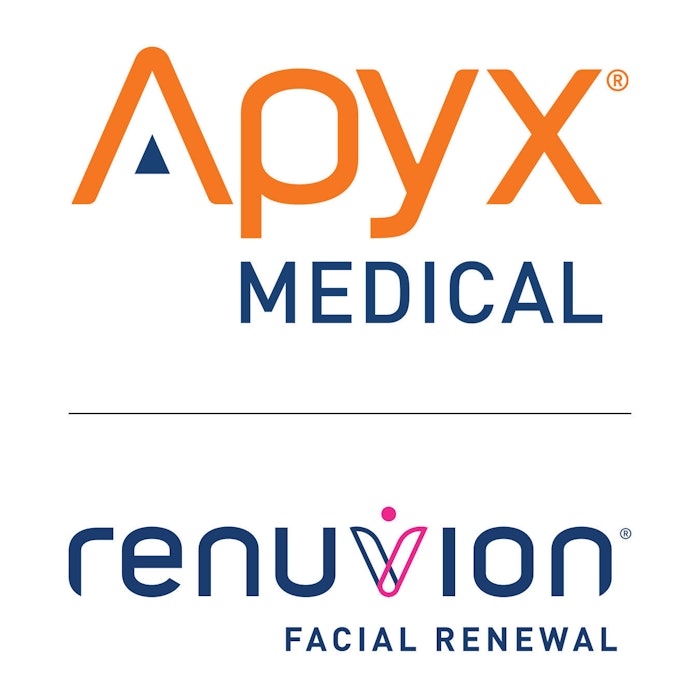 Top U.S. Surgeons' Testimonials on Renuvion 
Apyx Medical Corporation (APYX), the manufacturer of a helium plasma and radiofrequency technology marketed and sold as Renuvion, announced the release of a new surgeon testimonial video featuring the Renuvion Helium Plasma Technology. 
Leading plastic surgeons around the US, including Botched TV star Paul Nassif, M.D., are sharing the results they've achieved using Renuvion on patients for cosmetic procedures in their practices. 
Related: New HA Filler for Nasolabial Wrinkles Improves Feeling of Naturalness
The video features celebrity plastic surgeon and co-host of the television series Botched, Dr. Paul Nassif, New York facial surgeon, Tabasum Mir, M.D., Beverly Hills plastic and reconstructive surgeon, Leif Rogers, M.D., F.A.C.S., and board certified surgeon, Gregory Buford, M.D., F.A.C.S. The doctors revealed the benefits of using Renuvion technology in their cosmetic/aesthetic procedures. 
The Experts' Opinions
The video presents Dr. Nassif disclosing that his practice uses the device four to five times a week in cosmetic procedures. Dr. Mir shared that she gets impressive tissue contraction in areas she previously was only able to achieve through surgery, while Dr. Rogers testified that he now only uses Renuvion for his procedures. Finally, Dr. Buford admitted that he'd stake his reputation on the safety and effectiveness of Renuvion. 
Renuvion is the only product that is FDA-cleared to improve the appearance of lax (loose) skin on the neck and submental region (chin). It was also recently cleared for specific dermatological procedures for the treatment of moderate to severe wrinkles and rhytides, limited to patients with Fitzpatrick skin types I, II or III. These clearances highlight the safety and efficacy of the Renuvion technology.