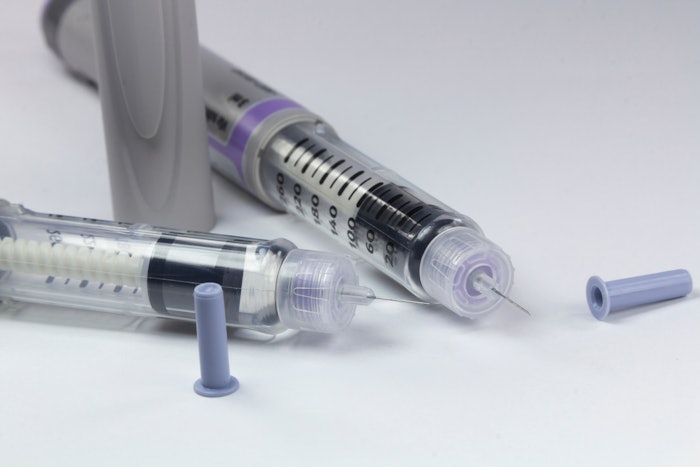 The increased demand for the semaglutide-based Wegovy and Ozempic has led to supply limitations and counterfeit products showing up at med spas and clinics. Novo Nordisk, manufacturers of Wegovy and Ozempic, is now enacting multiple steps to address these issues, including lawsuits, warnings and a website dedicated to the authenticity of its semaglutide products.
Related: Ozempic May Cause Hair Loss, But It's Rare
Novo Nordisk said it would limit the supply of starter doses of Wegovy as demand outpaces the company's manufacturing capacity. The supply interruptions aren't expected to affect higher doses of the medicine for people who already take the drug. Novo Nordisk said it anticipates that many people will have trouble filling prescriptions at the lower initial doses through September, according to CNN.
The company has also filed legal actions against multiple medical spas, weight loss or wellness clinics and compounding pharmacies to cease and desist from false advertising, trademark infringement and/or unlawful sales of non-FDA approved compounded products claiming to contain semaglutide.
The lawsuit alleges that counterfeit compounded semaglutide Ozempic products are being sold as genuine Novo Nordisk products, posing consumer confusion and potential safety concerns. The claims in the lawsuits are unrelated to the actual safety or effectiveness of Novo Nordisk's products.
Counterfeit Semaglutide
Novo Nordisk is the only company in the United States with FDA-approved products containing semaglutide, and no FDA-approved generic versions of semaglutide currently exist. Ozempic and Rybelsus have FDA approvals to treat Type II diabetes, while Wegovy is FDA-approved to treat chronic weight management. It is also common for patients to use Ozempic off-label for weight loss. 
Related: Ozempic Has Started a Weight Loss Revolution
Compounded semaglutide products do not have the same safety, quality and effectiveness assurances as FDA-approved drugs and may expose patients to health risks. The FDA recently also issued guidance on medications containing semaglutide that are marketed for Type 2 diabetes or weight loss.
Per the FDA's statement, "Compounded drugs are not FDA-approved and the agency does not verify the safety or effectiveness of compounded drugs. FDA has received adverse event reports after patients used compounded semaglutide. Patients should not use a compounded drug if an approved drug is available to treat a patient. Patients and health care professionals should understand that the agency does not review compounded versions of these drugs for safety, effectiveness or quality."
Novo Nordisk has launched a website to provide information about the responsible use of Novo Nordisk's FDA-approved semaglutide products, the differences between Novo Nordisk's FDA-approved products and other medicines being labeled as semaglutide, as well as tools on how to spot a counterfeit injectable product.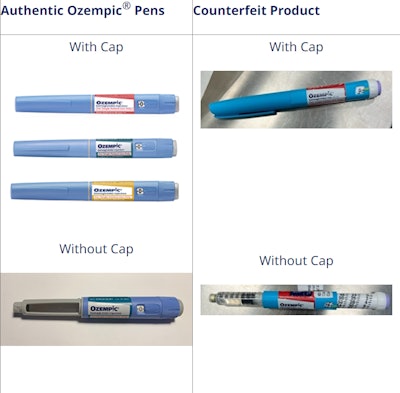 How to tell if it is Novo Nordisk Ozempic:
Genuine Novo Nordisk Ozempic pens do not extend or increase in length when setting the dose.
Authentic Ozempic pens are currently only available in a 0.25/0.5 mg pen, 1 mg pen or 2 mg pen.
The box will include 4 needles that attach directly to the pen, except the Ozempic 0.25/0.5 mg dose carton, which has 6 needles.
The dose dial window only shows intended doses:
On the pen intended to deliver 0.25/0.5 mg doses, it only shows -0-, 0.25 and 0.5 once dialed up to the intended doses.
On the pen intended to deliver a 1 mg dose, it only shows -0- and 1 mg once dialed up to the intended dose.
On the pen intended to deliver a 2 mg dose, it only shows -0- and 2 mg once dialed up to the intended dose.
Signs of Counterfeit Ozempic:
A counterfeit pen may be identified based on scale extending out from the pen when setting the dose.
The label on a counterfeit pen could be of poor quality and may not adhere well to the pen.
A counterfeit carton may have spelling mistakes on the front of the box (i.e., 1pen and 4 doses without space between '1' and 'pen')
A counterfeit carton may not include tamper-resistant/perforation.
The batch number printed on a counterfeit box may not correspond to the product strength stated on the same box and pen.
Novo Nordisk has disseminated information directly to healthcare providers and is working with other stakeholders to ensure patients are aware of the dangers of compounded or counterfeit products claiming to contain semaglutide. The company urges patients to only purchase FDA-approved semaglutide medications from entities authorized by the FDA, and patients currently prescribed semaglutide injectable products marked as Ozempic to be vigilant in checking their medication to ensure they are taking an authentic, Novo Nordisk-produced version of the authorized drug and injection device.
"Our priority is to ensure that patients have a safe and positive experience with our FDA-approved semaglutide medicines, and these actions are a direct reflection of that focus," said Doug Langa, executive vice president of North America operations and president of Novo Nordisk. "We believe it's important to provide additional tools and education to support the proper use of our approved semaglutide products and create broad public awareness regarding the difference between our FDA-approved medicines and other products being labeled as semaglutide."
Novo Nordisk's Recent Lawsuit History
In 2017, Novo Nordisk agreed to pay a $1.1 million settlement over allegations that Novo Nordisk's drug Victoza was extensively promoted for uses not approved by the FDA, which violates the Insurance Frauds Prevention Action. The settlement stems from allegations in a whistleblower lawsuit filed by Peter Dastous, an Endocrinology Diabetes Care Specialist formerly employed by Novo Nordisk.
Dastous alleged Novo Nordisk inappropriately marketed Victoza for use with pediatric patients with Type II diabetes and adult patients who did not have Type II diabetes. The FDA did not approve the use of Victoza for the treatment of pediatric patients. The FDA issued a warning when approving Victoza that the medication had a risk of tumors caused by Medullary Thyroid Carcinoma (MTC). According to the lawsuit, Victoza's marketing was inconsistent with the labeling instructions and warnings concerning the risk of MTC tumors.
In 2022, Novo Nordisk reached a settlement with the U.S. Department of Justice (DoJ) for $6.3 million regarding allegations that the company violated U.S. law by selling injection needles to the government that it manufactured in non-designated countries. That same year, the company also settled a three-year-old shareholder lawsuit that targeted the company's public communications about its insulin business.
The claims settled by the agreements were allegations only and there has been no determination of liability.