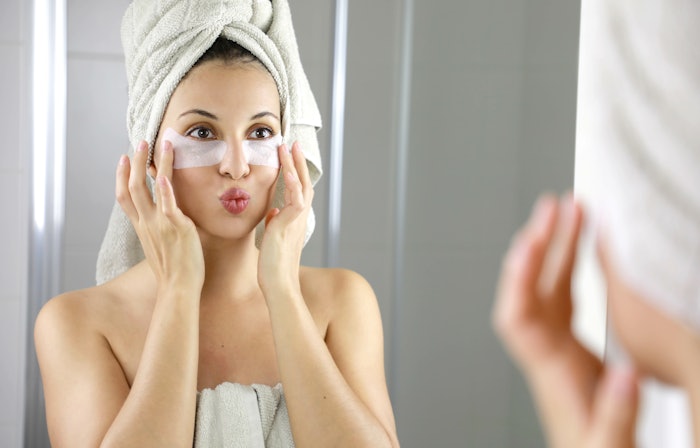 We recently covered Spate's released of its official "2023 Trends Report," detailing the top skin care trends taking over the industry this year. The highest monthly searched trend for skin care was exfoliating serums with 1.3K searches, with liquid exfoliants coming in second. As for body trends, the top three trends ranked as underarm toner, body gel and retinol body lotion. While the top two body product searches ranked higher, retinol body lotion was labeled a seasonal riser with a 2,447 increase in searches.
Spate also revealed that sunscreen sticks were the highest ranking related search term for skin care, with 40.8K searches and an increase of 20.2K. Consumers are becoming more aware of the importance of sun protection in their daily skin care routines. With consumers searching for sunburn, sun spots and sun damage, many are experiencing the consequences of not using sunscreen. There is an opportunity for brands to educate customers on the importance of SPF or sun avoidance after exfoliation.
The skin barrier trend is having its moment, and it's just the beginning. The rising interest in dermatitis and the skin barrier indicates that consumers could be over doing it when it comes to skin care. Brands should continue to remind users about responsible skin care and what ingredient combinations can lead to healthy or irritated skin.  
In our recent survey which asked, do consumer skin care trends influence your treatment offerings? 43% of readers said yes and 57% said no. 
These trends in consumer skin care can aid practitioners when it comes to what treatments their patients may find most useful and have a higher chance of requesting. Considering the relationship consumer skin care trends have with the treatment offerings they are likely to seek out and request from medical aesthetics practitioners, staying on top of consumer skin care trends is an important part of making sure you are providing your patients with the best possible education and care. Here are five informative MedEsthetics articles to help you do just that.
Check back every Tuesday for a new one-click survey.
We'll reveal the answers in next week's MedEsthetics newsletter.