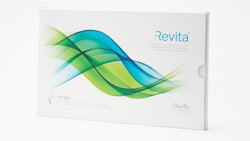 Courtest of StimLabs
StimLabs has developed the first intact placental membrane allograft on the market: Revita. Revita preserves all of layers of the biologic tissue and maintains the physiologic 3D architecture of the natural barrier membrane. 
Revita has three layers of membrane to resemble skin: amnion, an intermediate layer and chorion. These layers contain cytokines, growth factors, extracellular components and cell communication signals, that the body uses to heal, protect and grow tissues.
This new product can be used in many fields: Dermatology, Plastic Surgery, Podiatry, Vascular Surgery, General Surgery, OB/GYN, Orthopedics, Spine and Urology. 
888-346-9802, www.stimlabs.com