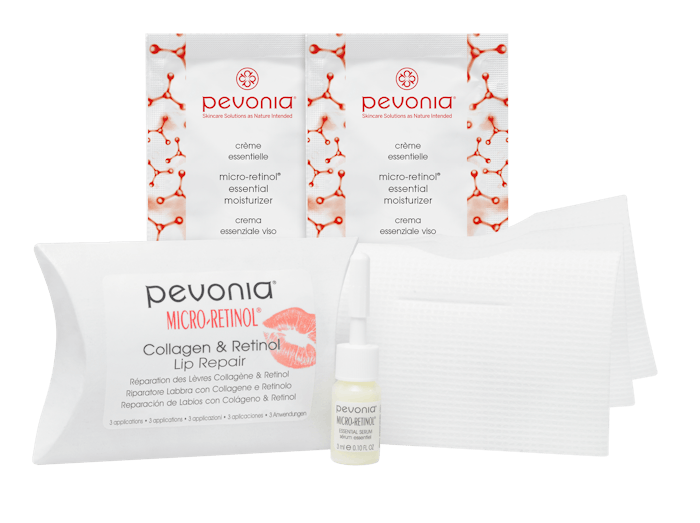 Pevonia's Micro-Retinol Collagen & Retinol Lip Repair offers an in-demand service to help redefine the lip and lip contour, while helping to smooth wrinkles and furrows. 
As one of the most delicate zones of the face, the lip area can easily reveal premature and evident aging caused by the imprint of time, natural movements, gesturing and lifestyle habits. Enhance your treatment menu by offering an instant solution to more youthful- looking lips. 
The Micro-Retinol Collagen & Retinol Lip Repair features a velvety-textured sheet mask proven to perform and deliver results. Marine Collagen protein fibers combine with moisture drenching Algae Oligosaccharides from Laminaria Digitata, laid as a matrix sheet infused with Pevonia's exclusive microemulsion Retinol technology (Micro-Retinol).
This science-backed technology surpasses all the limitations associated with standard forms of Retinol delivery to facilitate sustained skin turnover and repair. The Micro-Retinol Collagen & Retinol Lip Repair sheet mask serves as a vehicle for the precise diffusion of active ingredients, deeply moisturizing, plumping, smoothing, repairing, rejuvenating and protecting this telltale zone.
The Micro-Retinol Collagen & Retinol Lip Repair sheet mask is applied to the skin and activated with a special moistening solution. Built-in technology allows for a comprehensive and precise transfer of microparticles toward the deeper layers of the epidermis.
This highly activated transfer is modulated by skin warmth, close contact with the epidermis, and the precise pressure and friction over the mask. This accelerates the diffusion and absorption of these potent microparticles resulting in the amplification of repairing and rejuvenating benefits.
The lip area emerges radiant, smoother, and more youthful-looking for a treatment experience with great guest satisfaction ratings. The products are recommended for all lip and lip contours, especially dry, dehydrated, and mature skin types with visible lines and wrinkles.