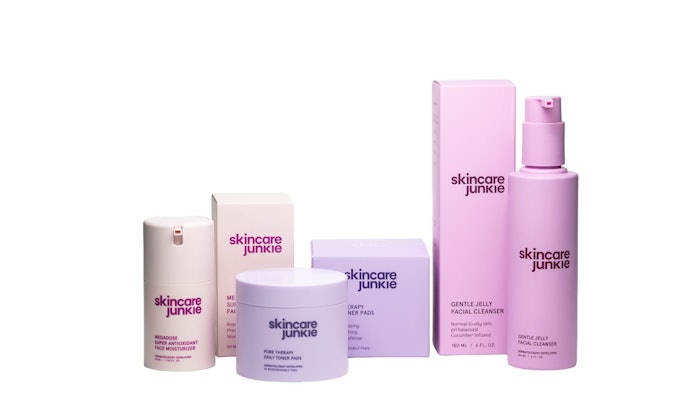 Dermatologist Blair Murphy Rose, MD, FAAD, has launched Skincare Junkie, which features fragrance-free, hypoallergenic, pregnancy-safe, cruelty-free and vegan formulas.
The brand was founded after Rose noticed many patients developing breakouts and skin irritation from popular skin care products.
The collection includes:
Gently Jelly Facial Cleanser: pH-balanced and rich in ceramides to reduce irritation and support the skin barrier. Cucumber soothes redness and niacinamide brightens dullness to achieve smoother, more radiant skin
Megadose Super Antioxidant Face Moisturizer: The first non-comedogenic non-toxic moisturizer full of powerhouse bioavailable antioxidants to prevent oxidative damage and boost collagen production. Centella asiatica soothes and calms while hyaluronic acid in a unique blend of seven molecular weights deeply hydrates and plumps. 
Pore Therapy Daily Toner Pads: Soaked in a proprietary blend of salicylic acid, antioxidant-rich fruit enzymes and PHA to gently exfoliate pore-clogging dead skin cells, prevent breakouts, remove dullness and improve texture. Aloe soothes and calms to support the delicate skin barrier, while hyaluronic acids hydrate.
Skincare Junkie plans to launch a Discoloration Fade Wand later this year, as well as several other launches in 2024.
Skincare Junkie is available on Skincarejunkie.com.
Rose is based in New York City where she is a clinical instructor of dermatology at the Weill Cornell Medical Center.
Rose said, "I needed to create a line of non-toxic, hypoallergenic skin care that I would feel confident suggesting to my patients and that they would enjoy using."