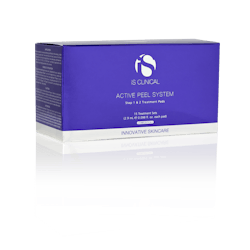 iS Clinical Active Peel System is a two-step treatment designed to resurface and polish the skin while providing hydration, rejuvenation and antioxidant protection. Each box contains 15 treatment sets.
Designed for every other day use, this skin treatment helps to improve the appearance of skin tone and texture, resulting in a smooth, hydrated, and more youthful-looking complexion. Each towelette is precisely formulated for a unique experience while working together to deliver optimal results.
Step 1 of the peel system is an ultra-light feeling formulation that produces a cool tingling sensation upon application, activating controlled exfoliation. It features a proprietary combination of powerfully active botanical acids and extracts.
Step 2 of the peel system drenches the skin in luxurious hydration as it neutralizes Step 1 and boosts rejuvenation. It features iS Clincal's proprietary botanical Extremozyme technology and Tripeptide-1 (Copper Tripeptide-1), combined with soothing botanicals.
Key Ingredients:
Tripeptide-1 (Copper Tripeptide-1)
Clinically proven to help diminish the appearance of premature aging and visibly reduce wrinkles over time.
A proprietary combination of enzymes that are clinically proven to help protect skin from environmental aggressors.
Natural fruit and sugar acids work to enhance exfoliation, smooth skin and decrease the appearance of fine lines while enabling improved absorption of other ingredients.
An AHA that gently exfoliates the skin for a renewed complexion.