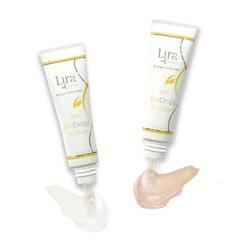 Lira Clinical SPF EliōDrops 30 provide a waterless guard against blue light–related fine lines, sun damage and oxidative stress. The SPF moisturizer uses zinc oxide and a combination of hydrating ingredients to protect the skin's barrier from UVA/UVB/HEV with SPF 30, BV-OSC and brightening MASQ-tech. It comes in two finishes: Glow and Sheer.
Home Care: This concentrated SPF daily moisturizer is the finishing step for any daily home care routine. Applying 3–4 drops all over the facial area will offer broad-spectrum SPF 30 protection. SPF EliōDrops 30 Glow can be worn by itself as a natural, healthy finish with light color coverage. SPF EliōDrops 30 Sheer can also be used as a makeup base for additional mineral foundation coverage, if applicable. The SPF moisturizer is suitable for any skin type including hypersensitive and compromised skin.
Clinical: The lightweight serum consistency can be the finishing protection step to any GPS treatment from Hybrid to GPS2. Treatments of GPS3 and higher are recommended to use a BB Crème application for protection.
Main Benefits:
Reef-safe, broad-spectrum, physical SPF protection against UVA/UVB/HEV with 16% zinc oxide
Protects skin against high–tech/blue light exposure, UVA/UVB/HEV damage and environmental stress
Concentrated moisturizing serums with smart tech, anhydrous delivery for a more sustainable footprint on the environment
Supports skin barrier protection with a breathable, hydrating lattice of moisture
All skin types benefit from the lightweight serum applications with or without color coverage
Engage skin in this modernized daily skin defense protecting, brightening and nourishing with just a few drops
Key Ingredients:
Zinc Oxide: 16%, broad-spectrum physical protection from UVA/UVB exposure, blue light and environmental damage
Polysilicone-11: Breathable molecular lattice, semi-occlusive, non-comedogenic protectant preventing TEWL, maintains natural hydration while promoting healthy barrier activity, biologically inert and an ideal option for hypersensitive skin conditions
Tetrahexyldecyl Ascorbate (BV-OSC): Lipid-soluble form of vitamin C, protects against oxidative stress and blue light exposure as well as initiates healthy collagen production.
Squalane: Promotes health barrier function, mimics skin's natural hydration, smoothing softening skin texture
MASQ-tech: Terpene-rich nourishment, fights free radical invaders, prevents post-inflammatory hyperpigmentation (PIH), minimizes pore appearance and increases cell proliferation
Ginger Root Extract: Aids skin flexibility, anti-inflammatory, antioxidant, strengthens organization of cells, calms, and soothes sensitive skin
Tea Seed Oil: Rich in natural forms of vitamins A and C, magnesium, and zinc essential for healthy cell function, anti-inflammatory, offers skin hydration without a greasy feeling
Apricot Oil: Loaded with essential fatty acids and ceramides, soothing antioxidant benefits ideal for sensitive and compromised skin, nourishes and protects promoting healthy skin immune response