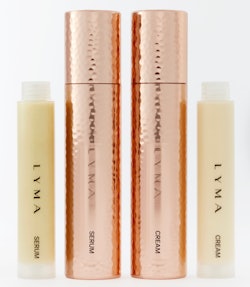 Lyma Skin is a skin science-focused line powered by Genolytics that features a serum and cream starter kit duo as well as refill options. The products use the science of epigenetics to tackle the eight mechanisms of skin aging.
Lyma Skin is an innovative formulation bio-engineered with an 80:20 ratio of active ingredients to water. It was formulated in partnership with Dr. Graeme E. Glass, Ph.D., Plastic Surgeon, Associate Professor of Surgery and Associate Professor of Clinical Surgery at Weill Cornell Medical College. Glass previously collaborated with Lyma in the creation of the Lyma Laser.
Dr. Glass said, "Lyma Skin takes several ground-breaking scientific concepts and combines them, to once again, create a revolution in skin care. The fact is topical skin care products are formulated to feel good, to look good and to smell good, in that order but with Lyma Skin we sought to do things differently and we succeeded".
Lucy Goff, founder of Lyma, said, "You are fighting a losing battle if you only tackle the surface-level signs of aging. In an industry saturated with endless products designed to tackle a limited number of concerns, consumers are left to create their own protocols, often mixing actives and brands that are incompatible, or at worst, cancel each other out. The Lyma Skin Serum and Cream, have been designed to work together, simplifying the consumer's routine to deliver genuinely remarkable results."
Main Benefits:
Addresses the eight mechanisms of skin aging
The world's first epigenetic technology that delivers a profound restorative effect.
Clears the way for new active cells to deliver youthful-looking skin.
Recreates the optimum microbiome environment of younger skin to reduce redness and restore firmness.
Accelerates skin renewal even during oxidative stress and reduces wrinkle formation.
Revolutionary anti-inflammatory ingredients. Support oxygen and nutrients in skin cells and increases elasticity for smoother skin.
Helps accelerate skin renewal to reveal fresher, youthful-looking skin.
Boosts elasticity and smooths the appearance of wrinkles.
Floods all layers of skin and creates an anti-dehydration shield. Boosts skin hydration barrier function by 150% and increases skin hydration by 72%.
Key Active Ingredients:
Genencare Natural Betaine
Ephemer
Quercevita Quercetin
Spermidine
Procyanadin
Aurafirm
MitoPrime Ergothioneine
Levagen
Telangyn Peptides
Retinyl Palmitate
Wellmune Hydrolysed Beta Glucans
Zizania latifolia Stem Extract
PrimalHyal 50 Hyaluronic Acid
Aquaxyl
Zemea Propanediol