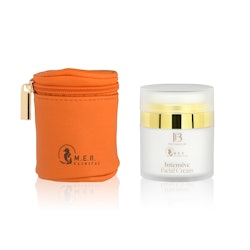 Bio France Lab's Intensive Cream is infused with a balance of rich sea minerals, powerful botanicals, bioactive peptides, and water-binding natural ingredients to counteract all aspects of aging. The peptides are tightening, emulsifying, lifting, plumping and smoothing. The botanicals support the peptides, assisting with wrinkle reduction, hydration, texture, elasticity and collagen production.
Peptides:
Nannochloropsis Oculata Extract is a marine water microalgae that immediately tightens the skin.
1,2 - Hexanediol pulls moisture from the air and deeper layers of the skin keeping the top layer of skin moist.
Hydroxypropyl Cyclodextrin is a plant-derived peptide that smooths the skin and has a visible lifting effect.
Palmitoyl Tripetide-38 helps skin maintain its structure, wound repair and collagen tissue remodeling. This peptide stimulates the epidermal junction plumping fine lines and promoting skin repair.
Botanicals:
Allantoin increases the collagen in the skin to treat wrinkles.
Flax Seed Oil, rich in Omega 3, assists with the production of collagen while lightening and brightening the skin.
Hyaluronic Acid is a fundamental molecule supporting skin hydration and elasticity with its strong ability to hold water within the epidermis.
Jojoba Oil has anti-inflammatory properties reducing inflammation. The Vitamin B & E vitamins assist with skin repair.
Myristyl Myristate results in a superior lightening /brightening effect to the skin while functioning as a strong anti-oxidant.
Squalane reduces the appearance of fine lines while moisturizing and softening the skin.
Stearic Acid is a versatile fatty acid that functions as an emollient, that is both cleansing and texture-enhancing