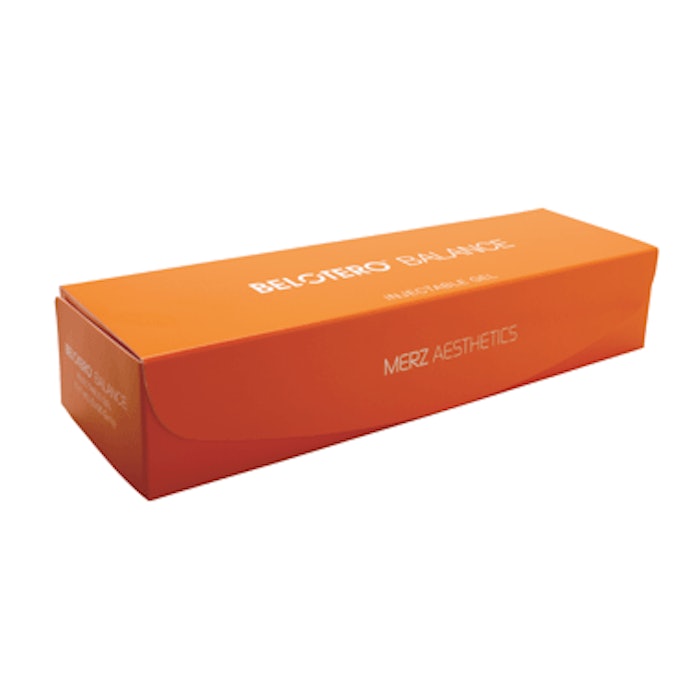 A new hyaluronic acid filler, Belotero Balance (Merz Aesthetics, www.merz.com), hit the market earlier this year. Is it really something new or just another HA-based product with a different name? Should you add it to the dozen or so FDA-approved products already in your clinic?
Our research says it's definitely worth a look for two reasons.
First, Belotero's chemical structure is different from other HA-based fillers. It is the world's first monophasic hyaluronic acid dermal filler based on patented cross-linking technology. During manufacturing, the cross-linked HA is passed through sieves that ensure a uniform particle size.
"This biochemical difference gives it a unique place because there is more spread than you get with similar dermal fillers, such as Juvéderm (Allergan, www.allergan.com) and Restylane (Medicis, www.medicis.com)," says Joseph Eviatar, MD, ophthalmic plastic surgeon, Chelsea Eye & Cosmetic Surgery Associates, Manhattan. "We haven't had enough experience yet to know the extent of this difference, but we do know that it can be injected more superficially than other dermal fillers."
Second, Belotero can be used for cosmetic problems that are difficult to solve using other technologies.
"Its strength is that it's thin enough to be injected into the skin and can be more precisely placed in superficial lines and wrinkles. Ideal applications include fine lines, especially those around the eyes and lips. We've [used] it successfully for transverse neck lines, which have traditionally been difficult to treat any other way. Physicians must understand that it only works when injected superficially. It is not a volumizer," says Dr. Eviatar. "If you inject it under the skin, it may seem to be effective immediately, but it quickly spreads and disperses."
Packaging information with other dermal fillers caution against superficial injections because there's a high risk of a bluish discoloration known as the Tyndall effect.
[pagebreak]
"Injecting Belotero directly into the skin along fine lines makes them disappear immediately. In the thin skin around the eyes, there's much less risk of the Tyndall effect than with other dermal fillers," says Dr. Eviatar.
As with other fillers, there is a risk of transient swelling and bruising at injection sites, and as with other HA-based fillers, unwanted results can be reversed by injecting hyaluronidase. The cost is about the same as existing products and Belotero requires no special injection technique.
"I use a 32- or 30-gauge needle, which means there's less trauma to the skin during injections," says Dr. Eviatar.
Physicians will need to note one difference between Belotero and other dermal fillers. "Belotero does not come premixed with anesthetic as many other HA-based dermal fillers do," Dr. Eviatar says. "You will need to reconstitute it with 0.1cc to 0.2cc of lidocaine before injecting it. The company is working on adding lidocaine, but this is another FDA hurdle."
What about longevity? According to Dr. Eviatar, the jury is still out. "Clinical trials using Belotero for nasolabial folds showed the filler lasted around 10 months. In my experience, this varies somewhat depending on the injection location. Filler lasts longer around the eyes than around the mouth or in the neck where there is more muscle movement. In the skin around the eyes, I would expect Belotero to last a year or longer, which is similar to what we find with Juvederm," he says.
Belotero won't be the last new product you'll need to evaluate. Several others—such as Aquamid (Contura International, www.contura.com), Emervel (Galderma, www.galderma.com) and Prevelle Lift (Mentor/Ethicon, www.ethicon.com) are in clinical trials or awaiting FDA approval. Since more than 40 products have already gained CE Marks in Europe—compared to a dozen or so here—we can look forward to many more candidates in the continuing search for the ideal dermal filler.
Linda W. Lewis is contributing editor to MedEsthetics.