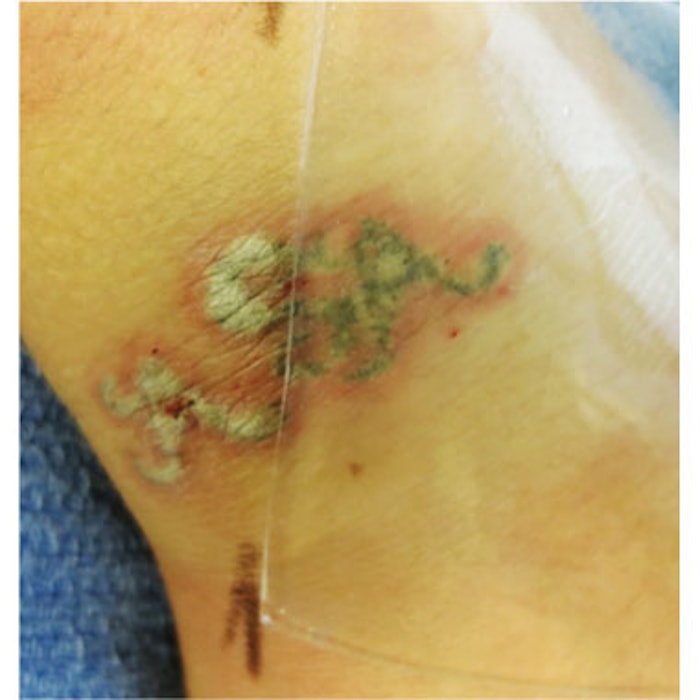 Tattoo removal has come a long way since the introduction of Q-switched lasers 25 years ago. Their nanosecond energy pulses allowed physicians to remove many inked images without the risk of scarring, and as equipment improved, systems with multiple wavelengths, adjustable fluences and variable spot sizes let skilled practitioners improve outcomes further. Still the tattoo removal process remained largely unpredictable, expensive and time-consuming.
Now, a new product—the DeScribe Transparent PFD (perfluorodecalin) Patch from ON Light Sciences—may provide faster clearance by allowing doctors to perform multiple passes in one session.
Physicians learned early on that sequential laser passes could speed clearance, but there was a problem. "When you use a Q-switched laser to treat tattoos, the intense light creates a layer of opaque white micro-bubbles over the inked skin, which prevents further treatment until the micro-bubbles clear," says Brian Biesman, MD, clinical assistant professor of dermatology at Vanderbilt University Medical Center and principal investigator for ON Light Sciences' pivotal clinical trial of the DeScribe Patch.
Techniques like R20 involved waiting up to 20 minutes between laser passes to allow the micro-bubbles to clear, tying up patients and medical staff for more than an hour at each session. Innovations like Picosure (Cynosure), a picosecond pulse duration laser, which launched in 2013, increased speed of clearance and predictability, but the high cost of the equipment and complaints of painful treatments have made many practitioners reluctant to abandon their existing Q-switched laser options. The DeScribe Patch could help speed up ink removal with both types of equipment.
"PFD acts as an optical clearing agent, reducing the white layer, much like putting oil on paper enhances optical clarity," says Dr. Biesman. Instead of waiting 15 to 20 minutes between passes, doctors can complete multiple passes in a few minutes, making treatments faster and easier for practitioners and patients. The patented technology was invented by chemist Michael P. O'Neil, PhD, founder of ON Light Sciences. ON Light received FDA clearance for DeScribe in April of this year.
"The results of our pivotal split-tattoo study are compelling," says Dr. Biesman. "Despite doing three passes in quick succession, there was no increase in adverse events. When given a choice between continuing treatment with or without the patch at the one-month follow-up visit, all 30 patients chose to continue with the patch."
Although a majority of study subjects got better clearance on the tattoo half treated with the patch, outcomes after two sessions varied from as much as 80% clearance to no visible change compared to the control side. "The number of patients treated to completion was not large enough to allow us to quantify how much the patch improved clearance," says Dr. Biesman. "Anecdotally, my office staff, who are very protective of our patients, insist on using the patch for all patients. And we are continuing to study the patch with other tattoo lasers, including picosecond lasers, so more information is coming."
The cost of the DeScribe to practices will likely be less than $50 per treatment. Since many patients can expect clearance with one-third fewer sessions, its use could significantly reduce the cost of tattoo removal.
Linda W. Lewis is the contributing editor of MedEsthetics.
Photo courtesy ON Light Sciences.