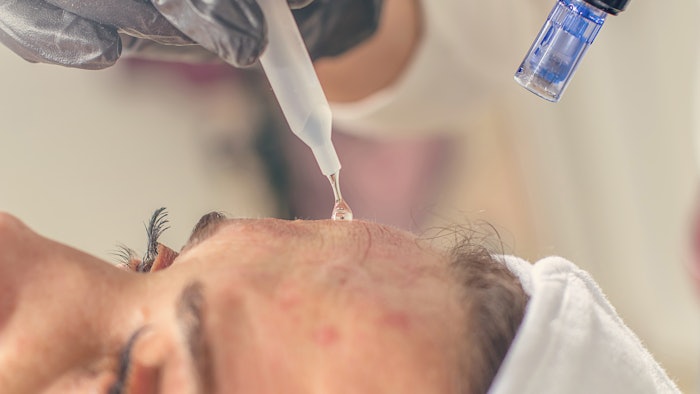 Researchers with the Cairo University, department of dermatology, performed a comparative, split-face, single-blinded study to determine the efficacy of topical tranexamic acid (TXA) versus topical vitamin C (Vit C) with microneedling (MN) for the treatment of melasma.
For the study, published in the Journal of Dermatological Treatment (Janaury 12, 2021), they treated 30 females with melasma using the modified Kligman's formula. Four weeks after the peels, the right side of the face was treated with MN + TXA and the left with MN + Vit C for five biweekly sessions. Outcomes were assessed using Wood's light, dermoscopy, Melasma Area and Severity Index (MASI), MASI malar right and malar left (MASIMR and MASIML), Visual Analogue Score (VAS) and Dermatology Life Quality Index (DLQI) at weeks 0, 4, 12 and 16.
Related: Microneedling plus tranexamic acid as effective as 4% hydroquinone
There was a significant decrease in both MASIMR and MASIML.DLQI improved significantly for both sides of the face and both sides exhibited significant diminution in dark fine granules, homogeneous pigmentation and pseudoreticular brown network. However, telangiectasia significantly improved only on the TXA treated side.
They concluded that MN followed by either Vit C or TXA is effective in managing melasma. But that dermoscopic evaluation is crucial in selecting the optimum treatment for each patient, with TXA offering offering advantages for epidermal pigmentation and dermal vascularity.