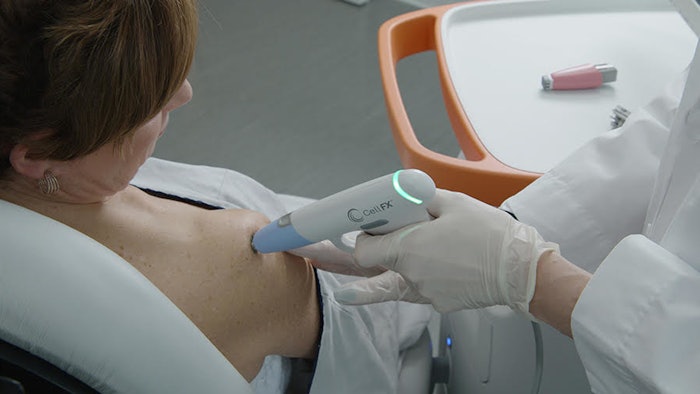 Four podium presentations at the American Society for Laser Medicine and Surgery (ASLMS) Virtual Annual Meeting, which took place on May 15-16, 2021, highlighted the ability of the CellFX system's Nano-Pulse Stimulation (NPS) technology to clear sebaceous hyperplasia, common cutaneous warts, back acne and common nevi (moles).
Nano-Pulse Stimulation (NPS) technology delivers nano-second pulses of electrical energy to nonthermally clear cells while sparing adjacent noncellular tissue, which is largely comprised of collagen. The data presented included:
"Multi-Center Study of Nano-Pulse Stimulation (NPS) Technology for the Treatment of Moderate-to-Severe Acne Vulgaris of the Back: A Feasibility Study" by Bruce Katz, MD. Results demonstrated:
NPS procedure's ability to treat moderate-to-severe back acne
A potential regional effect, extending to acne lesions outside NPS-treated skin areas
"I am excited that the results from our feasibility study to clear back acne further support the promising efficacy of NPS' cellular mechanism on the sebaceous glands that contribute to acne eruptions. We were also intrigued to observe a potential effect of acne lesion reduction beyond the treated skin areas, which is encouraging," said Dr. Katz.
"A Feasibility Study of Non-Thermal Nano-Pulse Stimulation (NPS) Technology for Treating Common Nevi" by Joel Cohen, MD. This data suggests:
NPS procedure may be effective for treating common nevus lesions.
Junctional nevi may have better single-treatment clearance, and compound/ intradermal nevi may require an additional NPS session.
"Lower Energy Settings with Nano-Pulse Stimulation (NPS) Procedure to Treat Sebaceous Hyperplasia Yield High Efficacy and Superior Skin Recovery" by Suzanne Kilmer, MD. This study found:
Efficacy of NPS procedure for treating sebaceous hyperplasia
High efficacy was achieved with greatly reduced energy settings
Single NPS procedure with lowest setting cleared majority of lesions with low rates of transient skin effects.
"Non-Thermal Nano-Pulse Stimulation (NPS) Procedure for Treating Cutaneous, Non-Genital Warts Shows High Clearance Efficacy with a Single Session" by Ted Lain, MD. This presentation showed:
Applicability of NPS procedure to treat non-genital warts
Overall complete clearance rate for common warts was 75%
A majority (81%) of common warts completely cleared using a single session, including recalcitrant warts
"We were proud to have four abstracts accepted for oral presentation at this prestigious global meeting and applaud our investigators whose rigorous scientific studies provide clinical evidence of the differentiated benefits and broad applicability of NPS technology," said Ed Ebbers, executive vice president and general manager, dermatology for Pulse Biosciences, maker of the CellFX. "Their vital learnings are crucial not only to advancing our CellFX procedure in real-world clinical practice with the dermatology thought-leaders currently participating in our controlled commercial launch, but also to expanding interest in NPS technology among the next wave of early adopters."