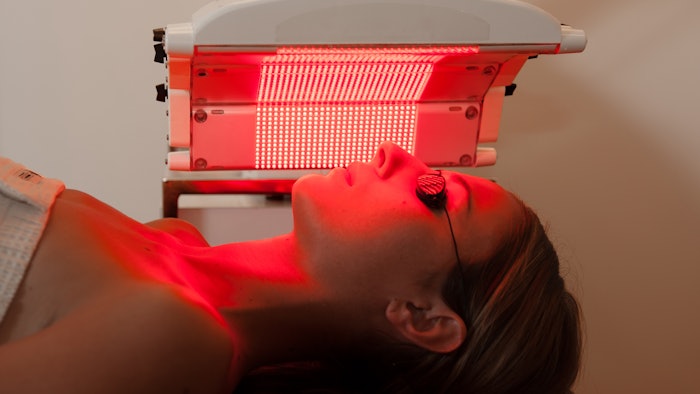 A study examining the effects and mechanism of action of photobiomodulation (PBM) using two commonly employed wavelengths—660 nm red light and 980 nm infrared light—found that ~660 nm red light exposure led to a more prolonged stimulation of adenosine triphosphate (ATP) production.
Related: Near Infrared Light Improves Fat Graft Viability
Researchers at the Wellman Center for Photomedicine measured the fluence-response curves in cultured keratinocytes and fibroblasts exposed to ~660 or ~980 nm from LED sources. Metabolic activity was assessed using the MTT assay for reductases and ATP production was assessed using a luminescence assay. To measure the role of mitochondria, they used an ELISA to measure COX-1 and SDH-A protein levels.
Related: Researchers Find Physiological Parameters that Inhibit Photobiomodulation
The authors of the study, published in Lasers in Surgery and Medicine (November 2021), noted that both ~660 nm and ~980 nm PBM have been used for indications including wound healing, hair regrowth and pain relief, yet are proposed to work via different mechanisms.
Their findings confirmed this. The keratinocytes and fibroblasts responded differently to exposures at 660 nm and 980 nm. Although the 980 nm wavelength required much lower fluence for cell stimulation, the resulting increase in ATP levels was short-term, whereas 660 nm stimulation elevated ATP levels for at least 24 hours.
In addition, COX-1 protein levels increased following 660 nm treatment but were unaffected by 980 nm. In fibroblasts, SDH-A levels were affected by both wavelengths. In keratinocytes, only 660 nm light impacted SDH-A levels.