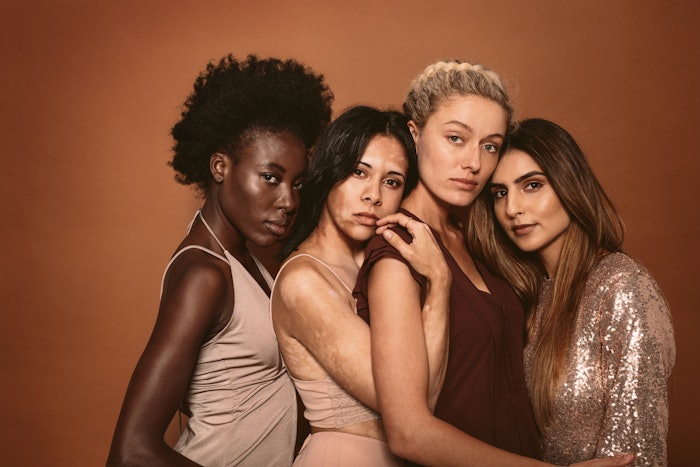 Inclusive and Representative Beauty 
Allergan Aesthetics and skinbetter science announced a new report from their DREAM (Driving Racial Equity in Aesthetics Medicine) Initiative, along with a long-term partnership with Shutterstock Studios. 
The report, Forces of Beauty, provides an understanding of what inclusive and representative beauty looks like today by shedding light on how "narrowly defined Eurocentric ideals continue to impact women of color." 
The report surveyed 4,000 women aged 21-65, from multiple geographic locations and backgrounds, and explored what defines beauty, how beauty impacts women's lives and the interplay between beauty and race. 
Related: Top Google Searches for DIY and Professional Cosmetic Treatments
Key Insights
Only 17% of all women, regardless of their race and ethnicity, feel like their racial beauty is accepted by society.
One in four Black, Hispanic, and Multi-Racial women believe that society's standards of beauty are racist.
52% of women agree that "anyone can be beautiful," with only 11% of women agreeing that society makes them feel beautiful.
"We are in a position, as industry leaders, to drive the necessary change within the aesthetics industry. We need to create a candid dialogue about racial representation and perceptions within our aesthetics community. We hope that the Forces of Beauty Report will contribute to moving us all in the right direction," said Jonah Shacknai, executive chairman of skinbetter science.
Raising Awareness
Forces of Beauty is the third deliverable from The DREAM Initiative, following the launches of the Curriculum for Advancing Racial Equity (CARE) produced by Solomé Rose Consulting, and the Full Spectrum of Dermatology: A Diverse and Inclusive Atlas, developed by co-editors Misty Eleryan, MD, MS, and Adam Friedman, MD, FAAD. 
The report continues the exploration of the relationship between racial/ethnic diversity and beauty for women. The companies are raising awareness about the need for inclusive and representative beauty, providing education and driving action among medical and consumer audiences. 
The companies will introduce Forces of Beauty in a multi-media launch that includes an engaging and emotional video series, produced by Shutterstock Studios, Shutterstock's custom creative shop. The series will be direct by Tiffany Frances, and will feature four women's stories and experiences that link directly to dedicated chapters within the report. These chapters include defining beauty, empowering uniqueness, the history of beauty standards and appropriation. 
The DREAM Initiative will also introduce a partnership in the aesthetics category with Shutterstock Studios that will offer a royalty free gallery of diverse images available to the public. The images will showcase beauty across race, culture, gender, age, ability level, and body type.