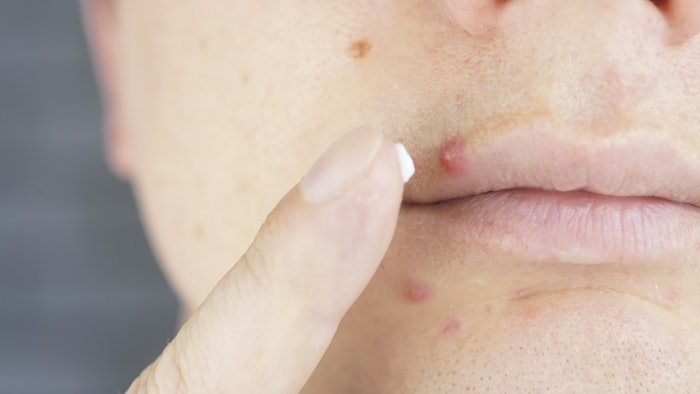 Researchers from the Department of Dermatology and Center of Clinical Neuroscience at University Hospital Carl Gustav Carus in Dresden, Germany, evaluated and compared the efficacy of two topical combination acne gels for the treatment of acne vulgaris. The findings were published in the Journal of Drugs in Dermatology (March 2021). 
The blinded, split-face pilot study compared the efficacy and tolerability of two marketed topical combination gels: clindamycin 1%/tretinoin 0.025% (CT) and benzoyl peroxide 2.5%/adapelene 0.1% (BA) in 20 patients with mild-to-moderate acne vulgaris. Subjects applied the gels on opposite sides of their faces for 21 days. 
Related: Effective Energy-Based Treatments for Acne
The researchers measured skin moisture content and used Investigators' Global Assessment as well as subject self-assessment (SSA) and the Comparative Participant Satisfaction Questionnaire (CPSQ) post treatment to assess outcomes. The subject self-assessment took into consideration stinging, burning, itching, erythema and dryness or scaling. Efficacy was assessed by inflammatory and non-inflammatory acne efflorescences counts.
At the end of the treatment, there was a difference in transepidermal water loss (TEWL) with TEWL increasing significantly for both CT and BA (+57.74% and +58.77%, respectively). On the BA-treated side, skin moisture content significantly decreased (-16.47%), and there was a significant increase in erythema and dryness/scaling as well as in SSA burning or stinging.
The greater irritation with BA was also shown in the patient satisfaction evaluations. While CT and BA both reduced acne lesions, more patients preferred to continue with CT. But, subject perception of acne improvement was higher for BA.
The authors noted that these findings suggest that CT and BA have simliar efficacy in the treatment of mild-to-moderate papulopustular acne. But CT is better tolerated than BA. 
Read the full study here.