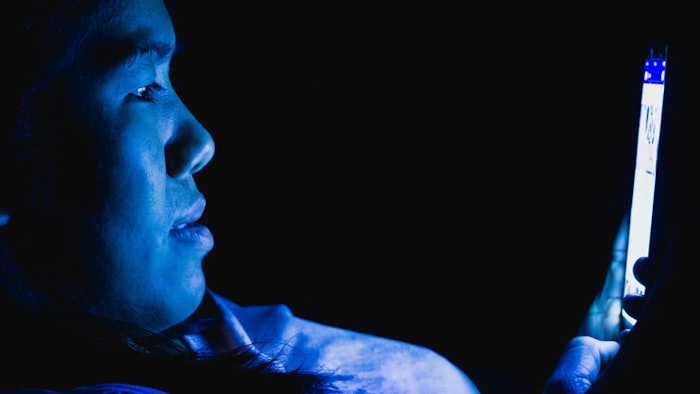 Natural protection against blue light, especially due to intensified screen time, was the focus of one of three studies presented by Burt's Bees during the American Academy of Dermatology (AAD) virtual meeting, held April 23-25, 2021. A natural bakuchiol alternative to retinol and plant-based squalane complex for barrier benefits were the others.
See related: Blue Light Ingredients and Research Intensify in Cosmetics R&D
Natural Blue Light Protection
According to authors Hemali Gunt, Ph.D., and Stanley Levy, M.D., exposure to blue light induces the generation of free radicals and reactive oxygen species (ROS) that cause inflammation and extrinsic skin aging. As such, quenching and scavenging free radicals is an approach to mitigate and prevent skin damage. Here, using an in vitro DPPH assay, the authors assessed the capabilities of a green tea and lotus blend to protect against blue light damage. Results suggested a synergistic effect at all three concentrations tested.
Retinol Replacement for Anti-aging
In a separate study, authors Gunt, et al., showed crosstalk between cellular mechanisms relevant to anti-aging was increased in the presence of bakuchiol but not retinol. As the authors explained, hypoxia inducible factor-1 (HIF-1) regulates cellular adaption to low oxygen levels. It supports anaerobic ATP generation and has been implicated in prevention of premature cellular senescence and aging-related diseases; it also plays a role in host defense. Furthermore, SIRT-1 levels have been shown to decrease with aging and their expression plays a role in the activation of HIF-1α.
See related: Anti-aging Safely; Bakuchiol for Skin-building Benefits
The authors used qPCR to compare the effects of bakuchiol versus retinol on gene expression using HaCaT keratinocytes. Results showed bakuchiol increased both HIF-1α and SIRT-1 gene expression, whereas retinol at the same concentration showed an opposite trend. In addition, CREBBP, a tumor suppressor gene, was upregulated significantly by bakuchiol but not by retinol. The authors concluded these findings validate the activity of bakuchiol on multiple retinol and additional non-retinol targets, suggesting bakuchiol's potential as a natural retinol alternative.
Plant Squalane, Inulin and Pea for Barrier Benefits
Finally, authors Gunt and Levy presented findings on the ability of a plant-based squalane, pea protein and inulin complex to improve the expression of skin barrier-related genes and lasting moisturization in skin. According to the authors, plant actives have been shown to effectively manage skin conditions including atopic dermatitis, psoriasis and xerosis. As such, the researchers assessed the mechanism of action of this natural hydration complex (NHC) on the skin barrier.
Following topical treatment with 10 µL of test material and controls (n = 5, Epiderm tissues), the gene expressions of filaggrin, involucrin and ceramide glucosyltransferase (UGCG) were measured by qPCR. Tissues also were examined microscopically, and a blinded clinical study was carried out based on corneometer measurements and D-squame sampling.
In vitro data showed the NHC increased the expressions of both UGCG and involucrin, which are involved in lipid synthesis and epidermal differentiation. Histology showed well-defined basal and differentiated layers. Clinical results revealed significant increases in skin capacitance and conductance measurements (p ≤ 0.05), and directional improvements in visual skin dryness (p ≤ 0.10) versus untreated controls for 24 hr, indicating prolonged moisturization efficacy. The authors concluded the proprietary NHC moisturizer improved skin barrier benefits in vitro and clinically.
Follow us for future podcast interviews digging deeper into these studies.