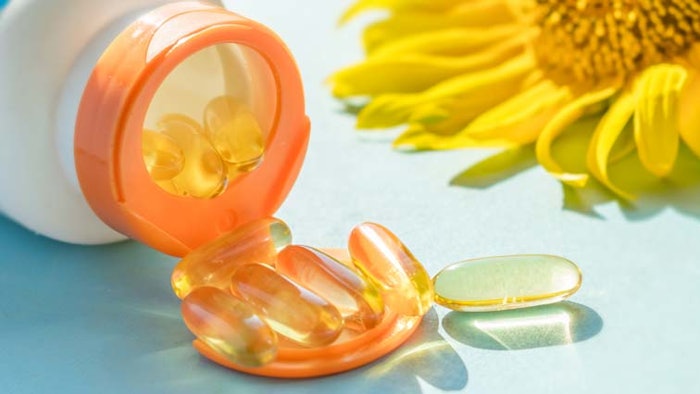 Researchers from Amway and its Nutrilite Health Institute, along with the Leibniz Research Institute for Environmental Medicine (IUF) and Heinrich-Heine-University, have published a review in Photodermatology, Photoimmunology & Photomedicine of clinical studies published in the past five decades exploring the skin protection benefits of carotenoid ingestibles.
Related: Sunscreen Update: Regulations and Tips to Improve Compliance
According to the article abstract, well-known carotenoids, e.g., α-carotene, β-carotene, lutein, zeaxanthin, astaxanthin and lycopene, have been well-established to boost skin's resistance against UVB-induced erythema. In relation, many published clinical studies have focused on erythema as the primary clinical measurement to indicate protection against UVB radiation. 
However, the authors note that erythema may not be the most accurate endpoint to validate photoprotection. More recent studies have shown carotenoid supplementation also halts UVA-induced pigmentation and inhibits molecular markers of oxidative stress such as intercellular adhesion molecule 1, heme oxygenase-1 and matrix metalloproteinases 1 and 9. 
Although regulators such as the European Food Safety Authority (EFSA) request that nutritional supplements, which claim photoprotective efficacy, must show a reduction in erythema, the authors emphasize this has likely lead to an underestimation of carotenoids in photoprotection. Oral supplementation with multi-carotene supplements may provide incidental photoprotection with a more uniform coverage over the total body surface area, and could potentially help to maintain healthy-looking skin.
The authors conclude that given the potential to act as antioxidants, future areas of research for carotenoids might include their use to protect human skin against non-UV wavelengths such as near infrared radiation and visible light, as well as other environmental threats such as air pollutants—all of which are known to be an important part of the skin aging exposome. See the full open access article for the complete review.