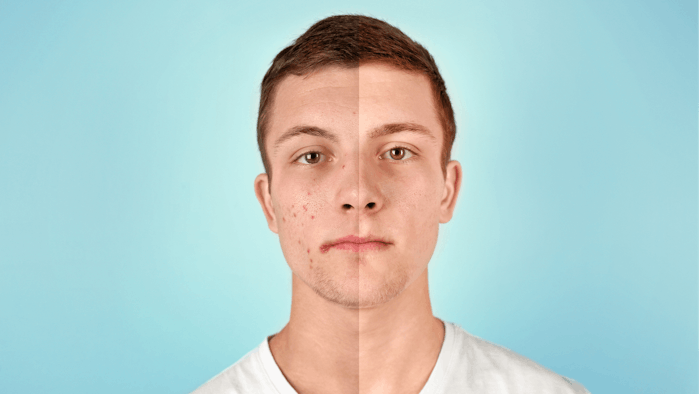 A combination topical treatment of 2.5% benzoyl peroxide and 5% niacinamide is more effective than 2.5% benzoyl peroxide alone in treating mild to moderate facial acne vulgaris, according to the outcomes of a double-blinded, randomized, controlled, split-face trial published in the June 2021 issue of the Journal of Cosmetic and Aesthetic Dermatology (June 2021).
Related: Clindamycin/Tretinoin Gel More Tolerable Than Adapalene/Benzoyl Peroxide
Tarnyamas Kaewsanit, MD, Panlop Chakkavittumrong, MD, and Neti Waranuch, PhD, enrolled 21 patients (18 to 36 years old) with mild to moderate facial acne vulgaris. Treatment was randomly assigned to the left or right side of the face for 12 weeks.
Both inflammatory and noninflammatory acne lesions were counted by a physician, and the postinflammatory hyperpigmentation score and postacne erythema score were calculated using an Antera 3D camera (Miravex, Dublin, Ireland). Sebum casual level was measured using a Sebumeter (Courage+Khazaka Electronic, Köln, Germany) every two weeks. Physician improvement score, patient satisfaction index and side effects were assessed by evaluation forms every two weeks.
Related: Galderma Gains Licenses for Acne and Rosacea Topicals
At Week 12, the treatment group (5% niacinamide+2.5% benzoyl peroxide) showed significant reduction in both the acne lesion count and sebum casual levels from baseline. The treatment group also had a greater reduction in noninflammatory lesion count than control (2.5% benzoyl peroxide+cream base). However, the reduction in inflammatory lesions was not significantly different between the two groups.
There was no significantly significant difference in the postacne erythema score between the two groups, but there was a reduction from baseline in both groups. There were no statistically significant differences found between the two groups at every follow-up visit in terms of physician improvement scale, patient satisfaction index or side effects.