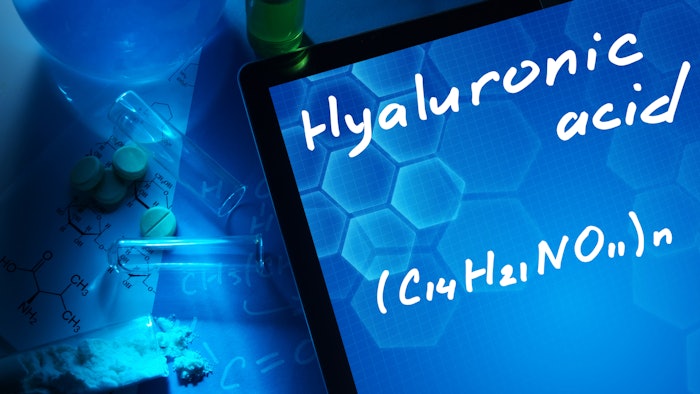 Elongated microparticles (EMPs) have been used to enhance topical drug delivery, and may be a valuable carrier for hyaluronic acid (HA) in anti-aging formulations, according to a study published in the International Journal of Cosmetic Science (December 2021). 
Researchers Miko Yamada, et al, designed a study to evaluate how elongated silica microparticles with two different length profiles could enhance the delivery of hyaluronic acid (HA) into different strata of the human skin. 
The researchers found that uisng EMPs with defined length distributions can achieve targeted HA delivery.
Related: The Difference in Hyaluronic Acid Molecular Sizes
The investigators created a prototypical liquid HA formulation that included either long (milled) EMPs, short (etched) EMPs or no EMPs. They used liquid chromatography, Typhoon fluorescence scanning system, laser scanning confocal microscopy and reflectance confocal microscopy (RCM) to assess: delivery of the HA in ex-vivo human skin; formulation stability; and delivery depth in the skin.
Related: Study Reveals Hyaluronic Acid Dynamic in Skin
RCM revealed that 'etched EMP' penetrated the skin to the stratum spinosum level; the vast majority (97.8%) of the etched EMP did not penetrate completely through the viable epidermis and there was no obvious penetration into the dermis. Milled EMP showed a 41-fold increase in penetration compared to the etched EMP, and the milled EMP penetrated beyond the dermoepidermal junction. 
The authors conluded that EMPs can enhance the deliver of HA into the skin and that defined lengths of the EMPs can be tuned for a specific startum of the skin.