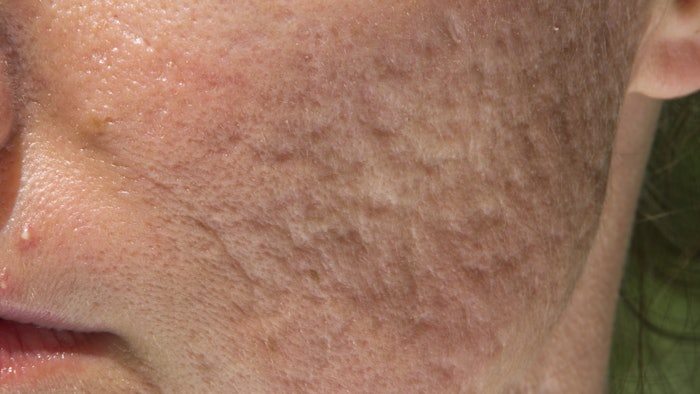 Researchers evaluated the results of a triple step acne scar revision technique in the treatment of atrophic acne scars. The study, published in the Journal of Cosmetic Dermatology (March 2022), found the treatment to be safe and effective. 
Related: Topical Antioxidant and Silymarin Serum Improves Facial Acne
The treatment included subcision and injection of hybrid cooperative complexes of high and low molecular weight hyaluronic acids (hybrid H-HA/L-HA). The 82 patients that were included in the study were divided into two groups. Group 1 received subcision with saline injection, while group 2 received the triple step acne scar revision technique (TSASRT). 
The fist step in the combination subcision and hybrid H-HA/L-HA included using a subcision technique to release fibrous cords at the dermal or deep dermal, subcutaneous plane using 18G Nokor needles. The second step included injecting the scar's atrophic dermal component with the hybrid H-HA/L-HA (0.02 - 0.1 mL) using a 29G needle. The third step was to fill the subcised space with hybrid H-HA/L-HA (0.02-0.1 mL) using a 25G cannula. 
Related: 30% Salicylic Acid Chemical Peels Reduce Sebum Production
Clinical improvement was achieved in both groups, but there were statistically significant improvements in the TSASRT versus subcision group based on the acne scar severity index and qualitatve scarring grading system.