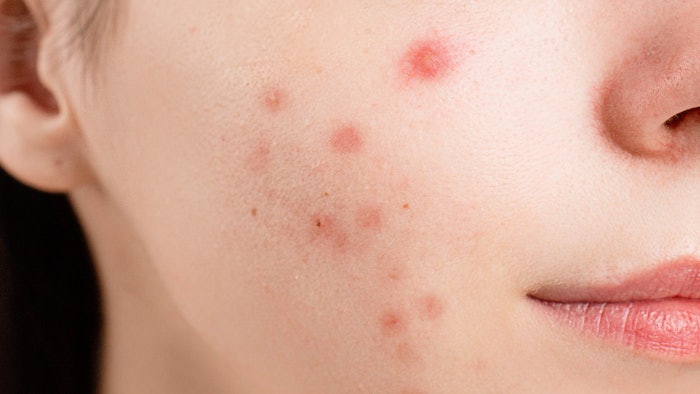 A topical serum containing 0.5% silymarin, 15% vitamin C, 0.5% ferulic acid and 0.5% salicylic acid was effective in reducing facial acne and improving associated skin attributes such as clarity, tone evenness and pigmentation.
Researchers Stephen Lynch, et al, from L'Oréal performed a single center, blinded clinical study over the course of 12 weeks on 56 subjects (46 females and 10 males) aged 18-48 (mean = 28) with mild-to-moderate acne and Fitzpatrick skin type ranging from II-V. Subjects had oily skin with sebumeter measurements ≥120 mg/cm2. The study was presented as a poster at the American Academy of Dermatology meeting in March 2022.
Related: 30% Salicylic Acid Peels Reduce Sebum Production
Subjects applied the serum to the face once daily for the duration of the study in conjunction with a mild cleansing bar and sunscreen. The researchers evaluated clinical grading of acne, tolerance, sebumeter measurements and conducted subject self-assessments at baseline and weeks 1, 4, 8 and 12. A randomized subset of the panel (N=30) had sebum sampled from the forehead by swabbing at baseline, week 4 and week 12 and analyzed for lipid content.
Overall sebum levels showed reduction as early as week 1, and the trend was maintained throughout the study. Analysis of the collected sebum samples showed significant reduction in squalene peroxide at both week 4 and week 12.
Related: First Patient Dosed in Phase II Trial of Acletis Oral Med for Acne
After four weeks of product use, subjects showed statistically significant improvement in skin clarity, skin tone evenness and PIH/PIE which continued to improve through week 12.
Global lesion count showed a modest decrease at week 4, but significant improvement by week 8 and week 12 with a reduction in both inflammatory and non-inflammatory lesions. The investigator's global assessment (IGA) of acne severity also showed a significant improvement of 27% at week 12.
The researchers noted that while some skin benefits were seen rather quickly, the strongest improvement in lesional acne was observed with continued usage.