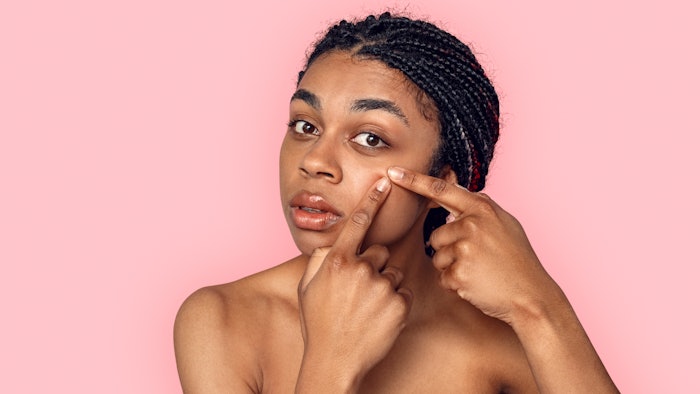 A chemical peel with 30% supramolecular salicylic acid (SSA) effectively reduced acne lesions and sebum production, according to the outcomes of a study titled 30% supramolecular salicylic acid peels effectively treats acne vulgaris and reduces facial sebum (Journal of Cosmetic Dermatology , March 2022).
Related: Review: RF Effectively Improves Acne, Acne Scars and Facial Aging
Twenty-five patients underwent four chemical peeling treatments with SSA every two weeks. The researchers performed a skin biopsy and immunohistochemical staining to detect factors involved in the regulation of sebum metabolism including: sterol response element-binding proteins (SREBPs), fatty acid synthase (FAS) and cyclooxygenase 2 (COX2). VISIA photographs and skin parameter measurements were recorded at every treatment, with a two-week follow-up after the last treatment. 
Related: First Patient Dosed in Phase II Trial of Ascletis Oral Acne Med
The patients' scores on the global acne-grading system (GAGS) decreased with 30% SSA treatment. The sebum level in the nose, chin, left cheek and right cheek improved significantly with increasing number of treatments. 
The T-zone sebum level improved more than the U-zone. The VISIA index porphyrin score also decreased following treatment. The skin barrier showed improvement through skin hydration, transepidermal water loss (TEWL) and pH value scores. Immunohistochemistry showed decreased expression of SREBPs, FAS and COX2. 
Related: Blemish-Prone Skin Benefits from Double-Conjugated Retinoid/AHA
The authors concluded that peels with 30% SSA proved to be an effective treatment for acne, and they also reduced facial sebum secretion without damaging the skin barrier. The reduction in sebum showed a cumulative effect, suggesting that multiple 30% SSA chemical peels are beneficial to acne patients.