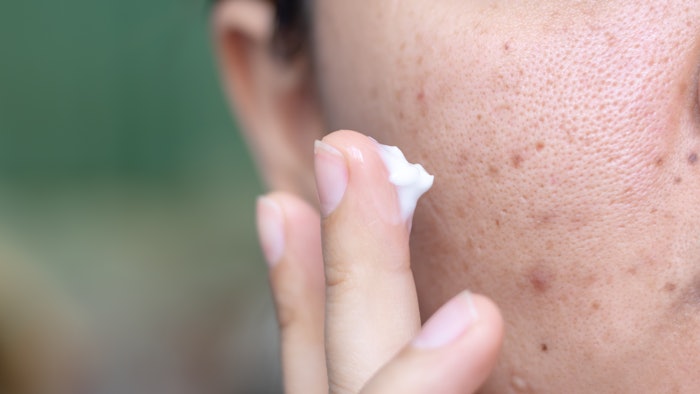 A new topical cream with a double-conjugated molecule containing a retinoid and an alpha hydroxy acid (AHA), formulated specifically for patients with blemish-prone skin showed significant improvement in blemishes and pore size and achieve high rates of patient satisfaction, per the outcomes of a study published in Drugs in Dermatology (January 2022).
Related: [Webcast] Understanding Adult Acne
Deanne M. Robinson, MD, FAAD, et al, performed a 12-week study of a new skin care formulation from Skinbetter Science containing the double-conjugated molecule. Twenty subjects with mild/moderate blemish-prone skin used the topical for 12 weeks (19 subjects completed the study).
Related: Extractions vs. Oral Doxycycline for Acne Vulgaris
Their skin was evaluated at four, eight and 12 weeks for skin clarity utilizing the Investigators Global Assessment Scale (0-Clear to 4-Severe) and changes in the appearance of pores using a 6-point scale (0-None to 5-Severe). The researchers also recorded adverse events (AEs) and subject satisfaction scores and performed a secondary analysis of visible, quantitative changes in pores.
Related: Microfocused Ultrasound Improves Pore Size
The mean percent improvement in skin clarity from baseline was 43% at week four, 48% at week eight and 50% at week 12. Mean percent visible pore improvement from baseline at four, eight and 12 weeks was 33%, 21% and 25%, respectively.
AEs were mild and transient, and by week eight, all subjects reported improvement in overall appearance. The secondary quantitative analysis (n=6) of pores demonstrated an 18% mean improvement in the appearance of pores from baseline to week 12.