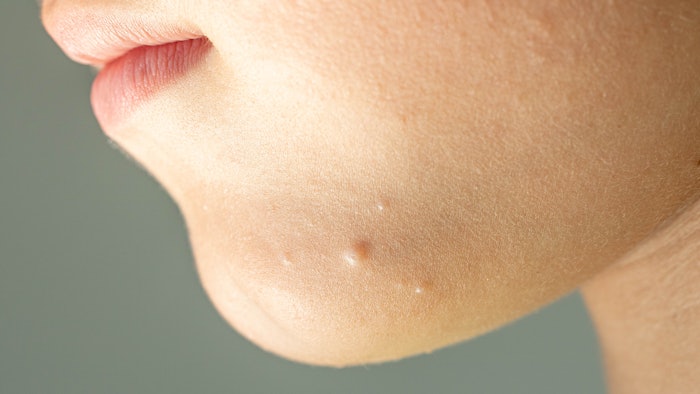 Novan, Inc. has announced the publication of positive efficacy and safety data from its completed B-SIMPLE 4 clinical study evaluating berdazimer gel, 10.3% for the treatment of molluscum. According to Novan, there are currently no FDA-approved prescription therapies for the treatment of molluscum.
The results were published in the peer-reviewed journal, JAMA Dermatology, in July 2022, by John C. Browning, MD, MBA; Carolyn Enloe, MPH and Martina Cartwright, PhD; et al.
Related: Shared Decision Making Increases Eczema Patient Healthcare Experience
"Berdazimer Sodium in Molluscum Patients with Lesions (B-SIMPLE) 4", was a multicenter, vehicle-controlled, double-blind study of 891 patients across 55 clinics in the United States. Patients were 6 months or older with 3 to 70 raised molluscum lesions. Enrolled patients were randomized to treatment with berdazimer gel, 10.3% (n=444), or vehicle gel (n=447), applying a thin layer to lesions once daily for 12 weeks.
At the end of 12 weeks, 32.4% of patients in the berdazimer group achieved complete clearance of lesions as compared to 19.7% in the vehicle group. Adverse event rates were low, the most common were mostly mild application-site pain and erythema.
Secondary efficacy endpoints were favorable toward berdazimer gel, 10.3% treatment, with 43.5% of berdazimer gel, 10.3% users achieving a lesion count of 0 or 1 at week 12, versus 24.6% of vehicle patients.
Per the report, 43.0% (191/444) of those treated with berdazimer gel, 10.3% had a ≥90% reduction from baseline in the number of molluscum lesions at week 12, compared with 23.9% (107/447) of vehicle patients.
"Results from the B-SIMPLE 4 clinical study strongly demonstrate the promise of berdazimer gel, 10.3% as a potential first and only prescription medication for molluscum," said Adelaide Hebert, MD, chief of pediatric dermatology at McGovern School of Medicine and Children's Memorial Hermann Hospital. "The ability for the patient/caregiver to apply a nitric oxide-releasing topical gel to lesions that facilitates complete clearance is a breakthrough in molluscum treatment since many go untreated due to limited options. These study results also showed favorable tolerability which is a key factor in treating children."
Paula Brown Stafford, president and chief executive officer of Novan, said, "Novan is proud to have conducted the largest molluscum interventional trial and to have achieved the results we did. If approved, berdazimer gel, 10.3% could be the first FDA-approved prescription product for the treatment of this highly contagious viral skin infection that mostly affects children. We are continuing our preparations to submit a New Drug Application for berdazimer gel, 10.3% and remain on target to do so before the end of 2022."