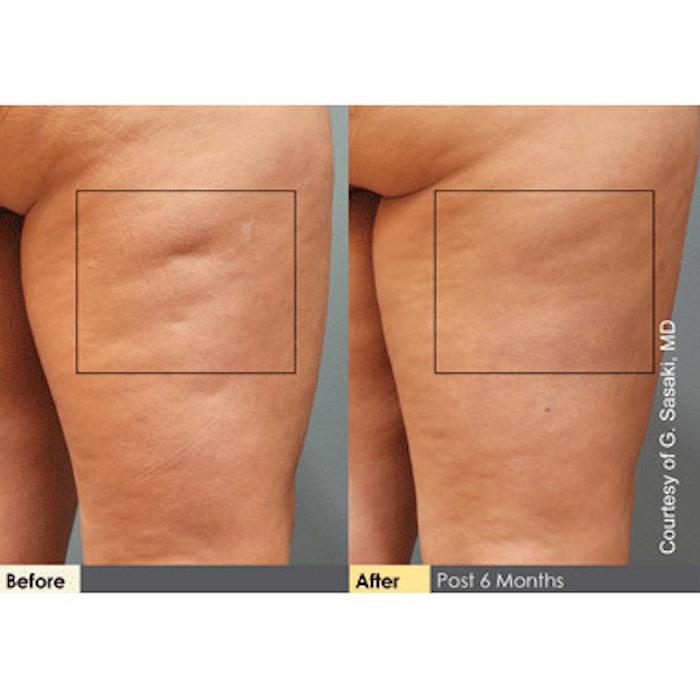 Cellulite treatments are a multibillion-dollar industry in the United States alone. More than 80% of women are afflicted with the cottage cheese appearance of cellulite, and they have been rubbing on lotions, sweating through wraps and enduring deep kneading sessions for years. Results of these treatments have often been minimal and fleeting. The United States Food & Drug Administration's 510(k) approval of the Cellulaze device (Cynosure, www.cynosure.com) in January has raised hope that an effective, long-term treatment may now offer reliable relief. Better still, the minimally invasive procedure requires just one treatment and little to no downtime.
"We've been working with the Cellulaze for more than two years," says Bruce Katz, MD, founder of the JUVA Skin & Laser Center in New York City. "The device truly offers significant lasting results for most women in just one treatment."
Clearance was based on nearly four years of clinical research. The device uses a proprietary SideLight 3D side-firing 1440nm laser technology to target the multiple causes of cellulite. The laser fiber—inserted below the skin through small incisions—not only heats and disrupts the pockets of fat seen with cellulite, it cuts through the septae that create the uneven skin surface of cellulite. The gentle overall heating from the laser also thickens and smooths the skin. Patients have to wait about two months to see results, but clinical data has shown a 25% increase in skin thickness and a 29% increase in elasticity at one year post treatment.
"In our study of 15 women, we conducted followup visits every three months for two years, measuring the patients' skin surface with Canfield's Vectra 3D surface imaging," says Dr. Katz. "Evaluations also included digital photography and physician and patient questionnaires. At the end of the two-year study, 68% of the women showed significant improvement in cellulite by photographic evaluation and 65% showed improvement with Vectra 3D surface imaging. Patient and physician evaluations showed good to excellent results in 76% and 69% of cases, respectively."
The procedure takes from one to two hours, depending on the size of the area being treated. In addition to the laser, it involves a local anesthetic and one or two small incisions that can be covered with adhesive bandages. Most patients can go back to normal activities the next day but they will need to wear a compression garment for about a week. Some bruising may persist for up to two weeks.
"We charge $2,500 to $3,000, depending on the area being treated," says Dr. Katz.
How long will the results last? Study data is limited to two years, but there is reason to believe results will last much longer. The person's overall health and skin quality play a role in how much improvement a particular patient might see, notes Dr. Katz.
Linda W. Lewis a MedEsthetics contributing editor.
Photo courtesy of Cynosure