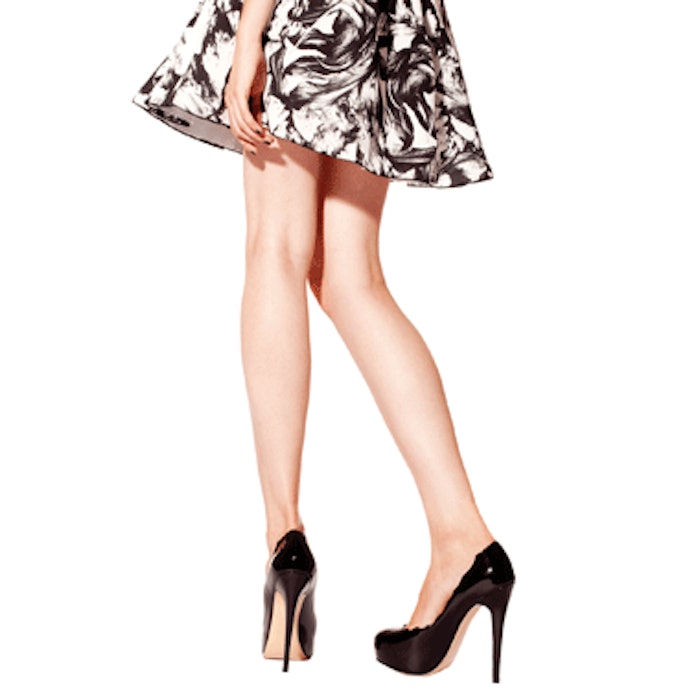 Botox is not the only aesthetic procedure patients ask for by name these days. And the face is not the only area of aesthetic concern. Dermatologists and plastic surgeons around the world are finding a raft of recipes for younger-looking skin all over the body. Ingredients include skincare topicals and injectables mixed with energy treatments from laser, radiofrequency (RF) and ultrasound devices. Many are now packaging combination procedures for the neck, décolleté, arms and legs, along with liquid facelifts and body contouring specials. We asked a sample of physicians who specialize in noninvasive and minimally invasive aesthetic procedures to share information about the off-face treatments that are most effective for their practices.
Barry L. Eppley, MD, DMD, plastic surgeon and co-founder of Ology Spa|Aesthetics|Medicine at Clarian West Medical Center, Avon, Indiana.
"About 50% of our noninvasive therapies are off the face, including laser hair removal, body contouring and laser vein removal. We use a variety of energy technologies, from the 1064 Nd:YAG laser to Exilis (BTL Aesthetics, www.btlaesthetics.com), Thermage (Solta Medical, www.thermage.com) and Ultherapy (Ulthera, www.ultherapy.com). The two therapies most likely to be effective for the décolleté are broadband light (BBL, Sciton, www.sciton.com) and the fractional laser. We use ProFractional Therapy (Sciton, sciton.com).
"You do have to be careful with lasers in this area, because the skin on the chest is much more sensitive and prone to scarring than the skin on the face. We tend to do less depth of penetration and recommend two to four treatment sessions. We do the BBL treatment first, followed by the fractional laser. These two therapies address discoloration and crepiness in the skin, which is all many patients need, but some can also benefit from the addition of fillers.
"Because of the large treatment area, we prefer autologous fat injections to synthetic fillers for the chest. This allows us to inject 20, 30 or even 40ccs cost-effectively. Adding volume, especially to the upper pole of the breast, creates a more youthful look. Although autologous fat injections can be somewhat unpredictable, the natural fat injections still last as long as most synthetic fillers, and you have the added advantage of introducing some stem cells that can produce longer-lasting results."
Image copyright iStockphoto.com.
[pagebreak]
Mitchel P. Goldman, MD, medical director, Goldman, Butterwick, Fitzpatrick, Groff & Fabi Cosmetic Laser Dermatology, San Diego.
"The most common procedure off the face, and the one that gives the most dramatic and consistent results, is intense pulsed light (IPL), which we use on the chest, neck, arms and legs to treat photodamage, especially solar lentigines. Once a woman has facial rejuvenation, which often includes the neck, the next problem is usually the chest, especially for women who are proud of their cleavage and want to show it off. As they age, sun damage and loss of collagen leads to wrinkles and crepey skin that give away their age even if the face does not. Combining IPL with Sculptra (Valeant Aesthetics, www.sculptraaesthetic.com) and Ultherapy resolves all of these issues for up to two years.
"We suggest one to three IPL and Sculptra treatments at one-month intervals. We use the M22 Universal IPL (Lumenis, www.lumenis.com) at the same settings we use on the face to take care of sun damage. To treat wrinkles, we inject a 16cc Sculptra dilution (14cc of bacteriostatic water and 2cc of lidocaine) in all rhytides and indentations. Immediately after the injections we apply liquid soap and perform a vigorous massage to evenly distribute the product. With this technique we've never had any problem with nodules in the chest area. We finish with one Ultherapy treatment, which works even better to tighten the skin in combination with the Sculptra. We use the same settings as for the face. Four or five months later, we will perform a second Ultherapy treatment on some patients if needed. We've just begun a phase 3 clinical trial using Ultherapy on the chest, as part of a multi-center study. I'm impressed with Ulthera's commitment to continuing research.
"We use the same combination regimen—IPL, Sculptra and Ultherapy—for arms as well. If we're doing arms or legs, we increase the IPL energy 10% to 20%.
"Aesthetic procedures can be a bit like redecorating your home. Once you rejuvenate the face, it makes other areas look bad in comparison. The limiting factor for most women is usually cost. IPL treatments start at $400, Sculptra treatments begin at $750 and Ulthera treatments are $3,500 for each area. Some women can afford the $30,000 it might take to rejuvenate chest, arms and legs, but others have to choose only one or two areas."
[pagebreak]
Mary Lupo, MD, dermatologist and medical director, Lupo Center for Aesthetic and General Dermatology,
New Orleans.
"Neck issues are usually sagging and sun damage. We like the Fraxel Dual (Solta Medical, www.fraxel.com) for the neck and chest, and combine it with Exilis. The Fraxel Dual addresses mottled pigmentation (with the 1927nm thulium wavelength) and fine crepiness (with the 1550nm wavelength). The RF Exilis improves skin texture and contours laxity. The Fraxel Dual is my workhorse when it comes to the chest. I often add Botox Cosmetic (Allergan, www.botoxcosmetic.com) into the platysma and I sometimes add diluted Restylane (Medicis Aesthetics, www.restylaneusa.com), injected with a cannula.
"For the hands I combine Radiesse (Merz Aesthetics, www.radiesse.com) and the Fraxel Dual or IPL.
"The most common problems with legs are veins and pockets of fat in the thighs. I use the Exilis on the fat and prefer sclerotherapy with Asclera (Merz Aesthetics, asclera.com) for prominent veins."
Vic Narurkar, MD, dermatologist and founder, Bay Area Laser Institute, San Francisco.
"As many as 30% of our treatments include off-the-face areas. We are seeing an increasing demand for treatments of the neck, chest and hands, perhaps because newer technologies are safer for use in these more delicate areas.
"One of our most popular off-face treatments is a combination of Thermage and Botox for the neck. We include the neck when we use the Thermage on the face for skin tightening; it is FDA approved for the neck as well as the face. This way, we avoid the common complaint of the neck not matching the face. We do decrease the settings by 10% to 20% in this area. After the Thermage treatment we add Botox to the platysma to minimize platysmal bands, and the patient walks out with immediate results that improve over time as the Thermage treatment builds collagen. There is a wonderful synergy, using the two treatments together.
"For even more significant results, we add a Fraxel treatment to address discoloration and maximize collagen building. You can do the Thermage and Fraxel on the same day, but I often stage them. Finally, in some patients we inject very dilute (1:2 ratio with saline) Juvederm (Allergan, www.juvederm.com) just under the skin to plump up the neck skin. This combination of treatments keeps the neck looking its best for at least six months. Patients who don't want surgery can get the best results possible in the neck area with this combination.
"I love combining skin resurfacing with volumizing fillers to treat aging hands. The hands, like the face, lose volume over time and are even more likely to be affected by sun damage. The veins on the hands also tend to become more prominent. We treat the discoloration and lentigines with the Fraxel Dual or the Clear + Brilliant (Solta, www.clearandbrilliant.com) and inject Radiesse or one of the hyaluronic acid fillers to add volume. Some physicians do sclerotherapy for prominent veins, but we find that adding volume often makes the veins look less prominent. We use sclerotherapy only if the patient is still unhappy with how the veins look after adding volume. The Fraxel Dual is very safe for use on the hands, but we keep the energy much lower than we would use on the face—somewhere between 10 and 20 joules."
[pagebreak]
Lisa A. Zdinak, MD, chief surgeon, Precision Aesthetics, New York.
"The number of off-face treatments in my practice has been increasing steadily since 2008. Prior to that, about one in 10 patients came in for off-face treatments, and most of those were Thermage treatments on the neck, botulinum toxin for platysmal banding, rejuvenation of the décolleté and, of course, fillers and IPL treatments for aging hands. After a period of rapid advancement in the noninvasive technologies using RF skin tightening and the fractional laser, now body work encompasses more than half of the procedures we offer in any given day.
"Other than body contouring, our most popular off-face treatments are probably hands and the décolleté. Crepiness and wrinkles in the cleavage area are big concerns for many aging patients. I don't like to use lasers on the body, because of the increased risk of dispigmentation. Instead I suggest one or two IPL sessions to reduce discoloration and home use of the Obagi Elastiderm Décolletage System (Obagi Medical, www.obagi.com) or the elure Advanced Skin Brightening Technology (Syneron Medical, www.syneron.com). But the best way to rejuvenate this area is with platelet-rich protein (PRP) injections.
"We draw three to four tubes of blood from the patient's arm and process it using the SELPHYL System (UBS Aesthetics, selphyl.com) to extract the platelets which, when activated, release platelet-derived growth factor, epidermal growth factor and basic fibroblast growth factor, to name a few. These signaling molecules instruct skin stem cells to divide and make fresh, new skin. They also stimulate fibroblast cells already present in the skin to wake up and make more collagen. There is no sting, because it comes from your own blood and the pH is the same as your skin, and no lumps or bumps.
"We actually inject the area with about 25% more of the blood filler than if we were using a hyaluronic-based filler. Over the next couple of days the body resorbs the plasma, and it may appear as if nothing is different, but four weeks later the collagen arrives. Our usual protocol is to treat once, wait eight weeks and then treat again if needed. The results last up to one year.
[pagebreak]
"We are seeing more patients who have undergone weight loss and need a solution for loose skin in the upper arms. The problem is not lack of fitness but collagen loss, which responds well to Thermage treatments. We use the bigger body tip to tighten skin on the arms and can usually get 1 to 1½ inches of circumference reduction. For patients with pigmentation issues, we might combine the Thermage with IPL treatments and we often suggest that patients use elure at home.
"One area where we don't yet have a great solution is crepiness and fat pockets in the knees. I've tried using Thermage, Exilis and carboxytherapy (injecting minute amounts of carbon dioxide gas just below the surface of the skin to destroy subdermal fat cells), but getting knees completely smooth and youthful looking is very difficult. In the future, perhaps ultrasound will prove the best therapy for this problem."
Linda W. Lewis is a contributing editor to MedEsthetics.
Impact Technology
Although many aesthetic physicians already include topical preparations in their treatment regimens, two innovations in this area may make topicals an even more important part of future combination treatments. In April 2012, Solta Medical announced a partnership with SkinCeuticals to offer the first fractional laser treatment plus in-office and home-use antioxidant skincare regimen. Roy G. Geronemous, MD, clinical professor of dermatology at New York University Medical Center and director of the Laser & Skin Surgery Center of New York, presented data from a clinical study of 18 patients treated with a combination of the Clear + Brilliant Perméa handpiece with a low-power 1927nm wavelength for nonablative resurfacing and SkinCeuticals CE Ferulic Acid, which contains L-ascorbic acid as its key active ingredient, at the 2012 annual ASLMS meeting in Orlando, Florida. Results indicated that the combination treatment cut resurfacing recovery time by two days, and patients experienced less redness and swelling.
At the same meeting, Maria Claudia Almeida Issa, MD, PhD, clinical professor of dermatology at Fluminense Federal University, Rio de Janeiro, Brazil, presented data from her clinical trial of the new iTED system from Alma Lasers. The iTED system is a three-step, transepidermal delivery solution that combines microperforation of the skin using fractional technology, application of topical active agents on the perforated skin and the application of IMPACT, an ultrasonic sonotrode module that emits acoustic waves and air pressure to gently drive active agents in to the subepidermal layers. Dr. Issa used a variety of cosmeceuticals to treat scars, stretch marks and aging skin in 70 patients; results were significant but varied.