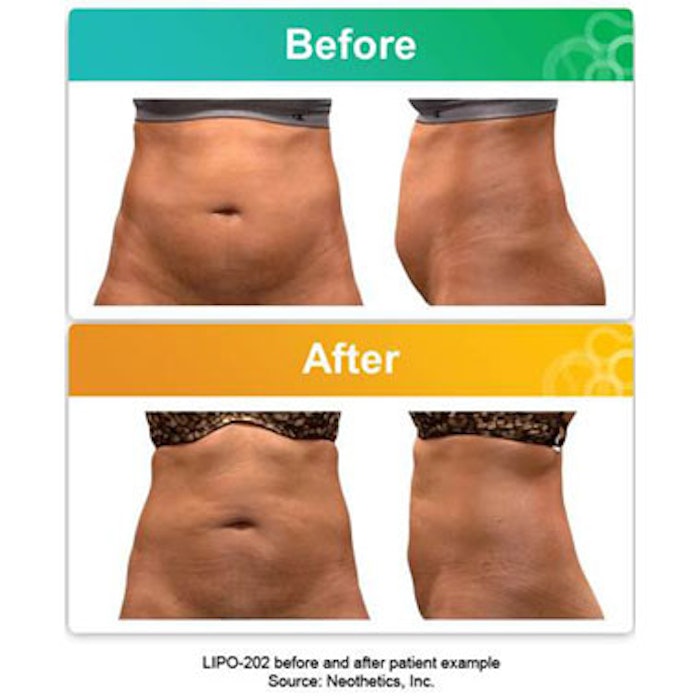 Specialty pharmaceutical company Neothetics will begin two Phase 3 trials—AbCONTOUR1 and AbCONTOUR2—of LIPO-202, the first noninvasive drug candidate for the reduction of central abdominal bulging due to subcutaneous fat in non-obese subjects. LIPO-202 is an injectable formulation of salmeterol xinafoate, a long-acting ß2-adrenergic receptor agonist that activates ß2-adrenergic receptors on fat cells, triggering the breakdown of triglycerides stored in the cells and causing lipolysis. Previous studies have indicated that LIPO-202 safely and effectively reduced central abdominal bulging.
AbCONTOUR1 and AbCONTOUR2 are randomized, double-blind, placebo-controlled studies that will assess a total weekly dose of 0.40mcg of LIPO-202 injected over eight weeks. A total of 1,600 patients will be enrolled and randomized 1:1 to LIPO-202 or placebo. The trials will be conducted in approximately 80 sites across the U.S.
The primary efficacy endpoint of both Phase 3 trials will be measured using two independent assessment scales: the Patient-Global Abdominal Perception Scale (P-GAPS) and the Clinician Photonumeric Scale (CPnS). The assessment scales will be used together as a composite to define a responder as a patient who achieves a two-point or greater change on both the P-GAPS and the CPnS. Secondary endpoints will include the reduction in abdominal circumference from baseline using laser-guided manual tape and the subjects' overall satisfaction of the improvement of their appearance as assessed with an Abdominal Contour Questionnaire.
"The initiation of our Phase 3 pivotal AbCONTOUR1 and AbCONTOUR2 trials advances late-stage development of our potentially best-in-class, non-surgical procedure for the reduction of central abdominal bulging. The achievement of this milestone moves Neothetics one step closer to filling a large unmet need for a safe, effective, non-invasive drug treatment for abdominal body contouring," said George Mahaffey, president and CEO of Neothetics.
For information about the trials and participating sites, visit www.clinicaltrials.gov and use identifiers NCT02397499 and NCT02398188.
Photo courtesy of Neothetics.