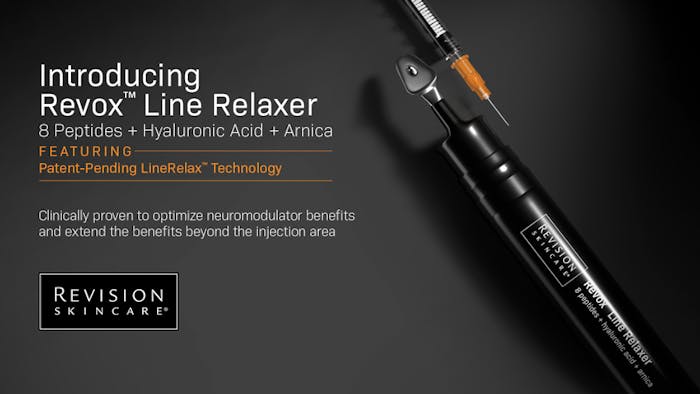 Revision Skincare® has pushed the boundaries of topical performance with Revox™ Line Relaxer, an advanced serum specifically designed to work synergistically with neuromodulators to reduce the intensity of horizontal and vertical expression lines. This clinically-proven formula features breakthrough, patent-pending LineRelax™ Technology that not only optimizes the benefits of neuromodulators, but also extends benefits into areas that neuromodulators do not traditionally address.  
"We've become so neuromodulator dominant that we think they can do everything, but the relaxation of muscles can only do so much. Revox™ Line Relaxer not only enhances the results of neuromodulators, but also rejuvenates the health of the skin over time which neuromodulators cannot do."

    -Dr. Shino Bay Aguilera, a board-certified dermatologist with a Fellowship in Dermatology from the American College of Osteopathic Dermatology
Revox™ Line Relaxer is powered by patent-pending LineRelax™ technology featuring five neuromodulating bioavailable peptides plus Gamma-Aminobutyric Acid (GABA). This technology not only reduces the intensity of expression lines by inhibiting acetylcholine release from the nerve ending to the muscle, it also works at the epidermal level mitigating the release of acetylcholine from the keratinocyte and dissemination throughout the skin.
In addition, a Dermal Support blend of three reparative bioavailable peptides plus two botanical extracts stimulates Collagen I, III, IV and V and inhibits MMP production. Hyaluronic Acid, Inulin and Arnica Montana Flower Extract provide short- and long-term hydration, rebalance the microbiome, and soothe stressed skin.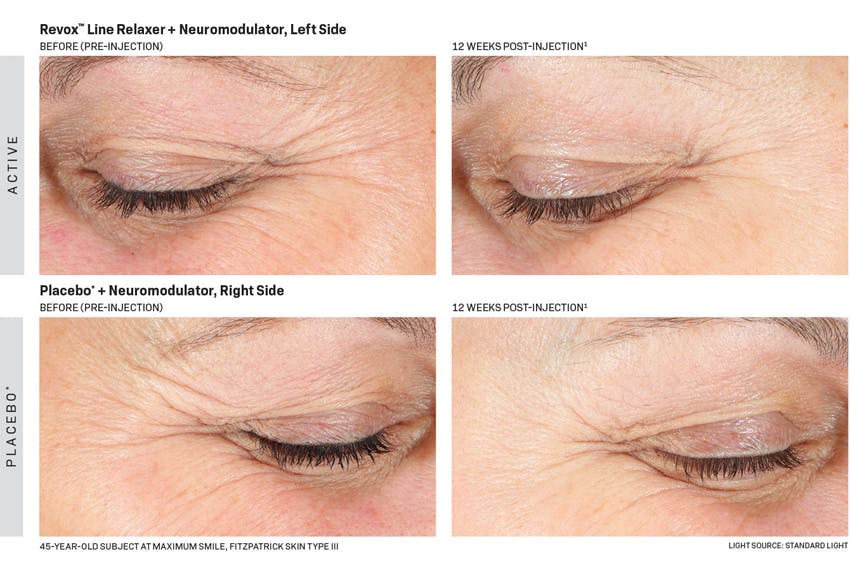 Use of Revox™ Line Relaxer with a neuromodulator in a multi-center, double-blind, split-face, placebo-controlled study demonstrated variable results with several key clinical parameters at rest and maximum expression after 12 weeks of twice daily use.1 Revox™ Line Relaxer is well tolerated and can be used immediately post-neuromodulator injection.1
An in vitro study using a full-thickness tissue model to measure acetylcholine release at the epidermal level found that tissue treated with Revox™ Line Relaxer had a 37% reduction of acetyl­choline at 72 hours (p<0.05) and a 49.9% reduction of acetylcholine at 96 hours (p<0.01) when compared to untreated. (negative control).2
And when used as a stand-alone product during a 12-week clinical study, 15 minutes post-application, 97% of subjects showed a highly statistically significant improvement in expression lines and under-eye lines,3 and 45% of subjects showed a highly statistically signifi­cant improvement in wrinkles.3 After 8 weeks, subjects showed a 29% average reduction in expression lines and under-eye lines3 which increased to a 38% average reduction after 12 weeks.3 There was also a highly statistically significant improvement in radiance, visual texture and overall appearance.3 
"There are a lot of products that give incremental improvement, but it is pretty rare to see a product that is a fundamental shift from where we are."

-Dr. Justin Harper, Aesthetic Physician and healthcare innovator 
Download the Revox Line Relaxer Brochure
Watch the Revox Line Relaxer Video: